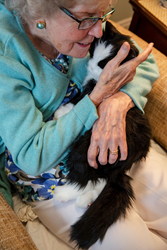 Joy for All Companion Pets allow socially isolated older adults to receive similar gratification and comfort that they would from live pets by calming anxiety, decreasing loneliness, and providing a better quality of life—without needing to worry about food or vet bills.
ALBANY, N.Y. (PRWEB) April 08, 2020
To help combat social isolation and depression among older adults during the COVID-19 pandemic and beyond, the Association on Aging in New York (AgingNY), in partnership with award-winning robotic pet manufacturer Ageless Innovation, is distributing up to 1,100 robotic Joy for All Companion Pets to those most at-risk for social isolation.
"Social isolation was already a serious public health problem for older individuals who have limited social connections, and the COVID-19 virus has made this problem exponentially worse," said Executive Director Becky Preve. "Social isolation also puts older adults at greater risk for a number of physiological issues such as decline in mobility, heart disease including heart attack, stroke, and high blood pressure, cognitive decline, infectious illness, and chronic illnesses, such as type 2 diabetes. We are so grateful for this partnership with Ageless Innovation and are excited to work alongside their team to deliver pets to those who will benefit from their companionship."
It is well known that social isolation disproportionately affects older adults, many of whom often only have social contact out of the home at community venues or places of worship. Those who do not have close family or friends and rely on the support of community services are at additional risk, along with those who are already lonely or isolated.
While social distancing and Matilda's Law were put in place to slow the physical effects of COVID-19, they also have the unintended effect of heightening the risk of social isolation and loneliness even more, ultimately leaving older adults and caregivers looking for solutions to provide comfort, companionship, and joy in this time of physical absence.
Joy for All Companion Pets allow socially isolated older adults to receive similar gratification and comfort that they would from live pets by calming anxiety, decreasing loneliness, and providing a better quality of life—without needing to worry about food or vet bills.
In 2019, New York State became the first state in the nation to test these pets with isolated community-based older adults. New York piloted 60 Joy for All Companion Pets (30 cats and 30 pups) with socially isolated older adults living at home in 12 counties across the state. Pilot participants were identified using a 6-item loneliness scale. Robotic cats and pups are usually given to people with Alzheimer's disease and other dementias as a form of calming pet therapy, but data has shown that using pets to decrease social isolation is highly successful—70% of pilot participants reported a decrease or significant decrease in isolation after one year.
Ted Fischer, Co-Founder and CEO, Ageless Innovation said, "The unfortunate reality is that the necessary protective measures put in place to protect older adults from the spread of COVID-19 also serve to further isolate them from friends and family. We are overjoyed to work alongside AgingNY and the New York State Office for the Aging to ensure that hundreds of our aging loved ones can continue to find comfort, companionship, and joy with our Joy for All pets during this critical time."
Greg Olsen, Acting Director of the New York State Office for the Aging (NYSOFA) said, "This pandemic has impacted the entire aging network and we are working tirelessly to address ongoing concerns, including social isolation. We are utilizing innovative ways to combat the public health emergency of social isolation and loneliness, and the robotic pet project has extensive evidence showing the overwhelming value to the older population. Expanding the access to these pets will help thousands of older New Yorkers by offering companionship."
Allison Nickerson, Executive Director, LIveOn NY said "LiveOn NY knows that the risk for isolation among older adults can be particularly devastating. This point is especially clear today as COVID-19 forces more individuals to stay home, limit outside contact, and alter daily routines. For this reason, we are incredibly pleased to support the expanded use of robotic pets throughout the state and we look forward to more older adults having access to this tool to both fight isolation and improve overall health."
Lisa Schuhle, Director of the Broome County Office for the Aging said, "Many older adults who love pets can no longer take care of them, and robotic pets are a wonderful substitute. They meow or bark, move, and can be loved and snuggled. During this incredibly difficult time, these robotic companion pets are even more comforting and appreciated by isolated older adults."
Krissy Leerkes, Director of the Essex County Office for the Aging said, "The Essex County Office for the Aging has been part of the robotic pet pilot project and has experienced an overwhelming decrease in social isolation and loneliness in participants. The additional investment in the program during this very difficult time is visionary and will absolutely assist in alleviating social isolation and loneliness."
Andrea Montgomery, Director of the St. Lawrence County Office for the Aging said, "St. Lawrence County has been pleased to partner in the robotic pet program with NYSOFA. Our participants fell in love with the pets from the moment they adopted them into their lives. They gave the pets names, daily affection, and even sleep with them for comfort. This program has significantly reduced the levels of reported loneliness and isolation among our older adults. I wish we could give one to every client."
AgingNY, NYSOFA, and Ageless Innovation recognize that the benefits of companionship extend to many who aren't directly impacted by this program. It is with this in mind that we would like to offer a 20% discount to all families facing the challenges of social isolation during this time. Those interested in learning more about these pets can visit http://www.Joyforall.com and use code NYS20 at checkout between now and June 30, 2020.
Tips and Resources to Stay Connected and Combat Social Isolation

Use technology to stay in touch. If you have a smartphone, use the video capabilities (seeing someone's facial expressions can help increase connection).
Check in via phone with family, friends, and neighbors regularly.
If you live with others, spend time connecting with them. Use this time to improve your existing relationships.
Manage your stress levels. Exercise, meditate, and keep to a daily routine as much as you can.
The Institute on Aging's 24-hour toll-free Friendship Line is the only accredited crisis line in the country for people aged 60 years and older, and adults living with disabilities. Trained volunteers specialize in offering a caring ear and having a friendly conversation with older adults experiencing loneliness and social isolation: 1-800-971-0016.
AARP's Connect2Affect.org website offers an assessment and resources to connect to help in your area.
AARP Community Connections connects neighbors to neighbors through online mutual aid groups.
USA Today has compiled a list of 100 things to do while stuck inside due to a pandemic.
For the latest news and information on COVID-19, visit https://coronavirus.health.ny.gov/home.
About the Association on Aging in New York
The Association on Aging in New York (AgingNY) supports and advocates for New York's 59 mostly county-based Area Agencies on Aging (AAAs) and works collaboratively with a network of organizations that exist to promote independence, preserve dignity, and provide support for residents of New York State as they age. For more information, visit http://www.agingny.org or call 518-449-7080.
New York is nationally recognized for being the first age-friendly state in the nation. Using the state's Prevention Agenda as the overarching framework, in 2017, Governor Andrew M. Cuomo launched a Health Across All Policies approach, where public and private partners work together to positively impact population health by marrying health care, preventive health, and community design, in concert with addressing social determinants of health, to improve the lives of all New Yorkers, young and old.
About Ageless Innovation
Ageless Innovation is a global company devoted to developing fun and engaging products for older adults.  Beginning with the award-winning line of Joy for All Companion Pets, Ageless Innovation is focused on creating products that promote fun, joy and play while reducing the cost of care and creating meaningful connections for older adults, their families, and caregivers. http://www.joyforall.com.
###
CONTACT:
Association on Aging in New York: Becky Preve, becky@agingny.org; 518-570-6023
Ageless/Joy for All: Christie Damato; cdamato@litzkypr.com; 631-278-4109