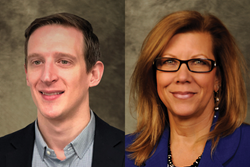 Both Nick and Christie bring significant transformational, domain and process experience to our company.
WALTHAM, Mass. (PRWEB) March 25, 2019
AssuriCare, a recognized innovator within the long-term care industry, announced two key additions to its leadership team today. Nicholas Easley, a trailblazer in value-driven business process design, has joined the company's leadership team as Vice President of Transformation, and Christie Conway, a veteran long-term care claims management leader as a Strategic Account Executive.
"Both Nick and Christie bring significant transformational, domain and process experience to our company," said Michael Gilbert, CEO, AssuriCare. "We're looking forward to having them on the team to help accelerate and enhance AssuriCare's industry-leading platform development, improve process automation and help insurers, claimants and providers realize significant additional value from our technology."
Nicholas Easley comes to AssuriCare with over a decade of strong operational leadership in diverse and often challenging environments. Prior to joining AssuriCare, he was Chief of Transformation and Business Process Redesign at the Massachusetts Bay Transportation Authority (the "T") where he directed a multitude of process improvement projects across functional areas that resulted in dramatic improvements in efficiency, rider satisfaction and profitability. Over the course of his career he has consistently demonstrated his fluency at implementing positive change for organizations in multiple industries, including Siemens Building Technologies, Union Station Technology Center, and Jeremy Rifkin Enterprises. "Nick's efforts will focus on driving efficiencies and maximizing value of the LTCfastpay platform; both within the company and for insurers," said Gilbert.
"I love digging into business processes and finding or creating opportunities," said Easley. "AssuriCare has created an innovative technology platform and processes that create unique value for long-term care insurers. I am excited to be a part of the team that is charged with taking that to the next level."
Christie Conway joins AssuriCare with 24 years of long-term care experience at Bankers Life and Casualty, one of the country's largest active long-term care insurers. Over the last 10 years, Ms. Conway led the long-term care claims team, and has established herself as an industry-recognized leader in innovative claims management processes and identification and mitigation of fraud, waste and abuse. "I'm so pleased that Christie has decided to join AssuriCare, to use her deep experience in long-term care claims management to help other long-term care insurers innovate to drive efficiencies, identify fraud and reduce unnecessary claims utilization," said Gilbert.
"I'm thrilled to take this step to work for such an innovative and exciting company," said Conway. "I'm looking forward to collaborating with claims teams from many different long-term care insurers, to share my experience and help implement technology that transforms the way claims are processed and paid."
"When we partnered with AssuriCare, we recognized that a key to supporting and driving growth would be investing in additional experienced leaders to help implement the company's strategic roadmap and build strong, long-lasting partnerships with insurers," said Mike Anello, co-founder and managing director of M33 Growth. "Nick and Christie both have the passion and expertise to accelerate AssuriCare's mission to solve the most critical claims management issues long-term care insurance carriers face."
About M33 Growth
M33 Growth is a venture and growth stage investment firm that partners with founders and CEOs who have successfully bootstrapped their companies to strong growth and are positioned to rapidly scale their companies and break through as market leaders. With deep experience fueling sales and marketing engines, driving acquisitions and building value through data assets, M33 Growth seeks to propel portfolio companies to success in their markets. Founded by veterans of renowned investment firms with considerable operational experience, the Boston-based firm seeks to invest in companies in the software, healthcare and services sectors throughout North America. Learn more at m33growth.com.
About AssuriCare®
AssuriCare is a market leader in SaaS technology solutions for the long-term care industry. Since 2010, the company's innovative LTCfastpay platform has revolutionized the way people pay for long-term care, and the way payers and administrators receive, evaluate and process long-term care claims. With over 175 years of long-term care, technology and care management experience on its leadership team, AssuriCare understands and addresses the issues LTC insurers, providers and care recipients face and provides the ability to communicate, process payments and pass critical information between all constituents. The company is deeply committed to continuing the development of its technology and customer service model to deliver the highest value and bring transparency and simplicity to the complex long-term care market. Learn more at http://www.assuricare.com.