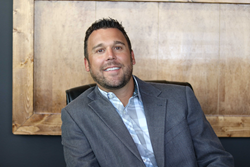 WALTHAM, Mass. (PRWEB) February 28, 2019
AssuriCare, an innovation leader within the long-term care industry, announced today that Adam Hoffman, an experienced and accomplished sales and operations leader, has joined the company as Vice President Enterprise Sales.
"We serve many of the largest long-term care insurers and have identified significant opportunities to enhance our platform to generate efficiencies and cost savings, benefit more people, and increase our overall value proposition to the long-term care industry," said Michael Gilbert, CEO at AssuriCare. "As demand has accelerated for our services over the last 12-24 months, we have sought a trusted industry leader to help more carriers benefit from our world class offering. I can't think of anyone better suited to join our team and help us listen to our customers, execute on our roadmap, and create strategic, long-lasting relationships with enterprise clients. I've known Adam for many years and we have always shared the same passion for building solid, mutually beneficial relationships and solving industry challenges for this growing and important market."
Mr. Hoffman brings nearly 20 years of proven success in optimizing corporate revenues and initiatives through sales, leadership, and service excellence. He has deep roots in the long-term care industry and spent time managing some of the largest long-term care blocks in the industry. Prior to joining AssuriCare, he served as Vice President of Business Development at LTCG, the largest third-party administrator of long-term care claims.
"I am excited to become part of the AssuriCare team and share their commitment to meeting the current and future needs of the long-term care industry," said Hoffman. "I look forward to working with carriers to understand how we can leverage our expertise to help them address their most critical strategic, financial and operational challenges. With several years of concrete experience managing large claims operations on behalf of many long-term care insurers, I feel I bring a ground-level understanding of the claims process and unique environment they work in. I truly enjoy partnering with my customers to uncover opportunities to solve problems and create a successful business relationship – and I am thrilled to fill that role at AssuriCare."
"After hearing the challenges many carriers faced managing their LTC block, we saw a big opportunity to partner with Mike and the AssuriCare team to accelerate their product roadmap and customer success team," said Mike Anello, co-founder and managing director of M33 Growth. "A key to our success moving forward is adding driven industry veterans like Adam. Adam shares the same values and drive as the AssuriCare team and will play a vital role in helping carriers address key issues in their LTC blocks."
About M33 Growth
M33 Growth is a venture and growth stage investment firm that partners with founders and CEOs who have successfully bootstrapped their companies to strong growth and are positioned to rapidly scale their companies and break through as market leaders. With deep experience fueling sales and marketing engines, driving acquisitions and building value through data assets, M33 Growth seeks to propel portfolio companies to success in their markets. Founded by veterans of renowned investment firms with considerable operational experience, the Boston-based firm seeks to invest in companies in the software, healthcare and services sectors throughout North America. Learn more at m33growth.com
About AssuriCare®
AssuriCare is a market leader in SaaS technology solutions for the long-term care industry. Since 2010, the company's innovative LTCfastpay platform has revolutionized the way people pay for long-term care, and the way payers and administrators receive, evaluate and process long-term care claims. With over 125 years of long-term care, technology and care management experience on its leadership team, AssuriCare understands and addresses the issues LTC insurers, providers and care recipients face and provides the ability to communicate, process payments and pass critical information between all constituents. The company is deeply committed to continuing the development of its technology and customer service model to deliver the highest value and bring transparency and simplicity to the complex long-term care market. Learn more at http://www.assuricare.com.
###