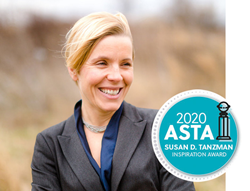 Advisors are the heart and soul of travel industry and their hard work will assure our industry will not only persevere, but thrive.
CALVERTON, Md. (PRWEB) September 15, 2020
The American Society of Travel Advisors (ASTA) promotes outstanding contributions within the travel community and recognizes the individuals and organizations working to improve and promote the world of travel. Winners were chosen by ASTA Members and announced virtually at the 2020 ASTA Global Live conference.
In the attached clip, David Harris, CEO and Helen Enriquez, VP, Product Development and Technology Solutions of Ensemble Travel Group announce the big news: https://www.youtube.com/embed/cNBEmUYq_jw.
Named in honor of the late Susan Tanzman, a long-time advocate for travel agents, the Susan D. Tanzman Inspiration Award is presented annually to individuals exemplifying Susan's inspirational spirit and dedication to the travel community.
"When Karolina emigrated as a young woman from Poland into an entry level sales department coordinator role at The Cruise Web, I saw quickly that Karolina had a rare and special blend of intelligence, focus, and determination that would make her a leader," said Frans Hansen, President of The Cruise Web. "18 years later, Karolina's contributions have not only helped The Cruise Web become what we are today, but her advocacy and professionalism have benefited all travel retailers and the greater travel industry community."
Upon accepting the award, Karolina Shenton said, "I am truly honored to accept this amazing recognition. Furthermore, I'm humbled by the great efforts being made throughout our industry to assure a bright future. There has never been a time more important than right now, to work together to assure that the industry we all love and live emerges healthy and stronger than ever. Throughout my 18 years in the travel industry, I have always been impressed by the unwavering creativity, professionalism and resilience of travel advisors. Advisors are the heart and soul of this industry and their hard work will assure our industry will not only persevere, but thrive."
Please join us once again in congratulating Karolina Shenton, recipient of the 2020 Susan D. Tanzman Inspiration Award! We know Karolina's impact extends far beyond The Cruise Web, and we believe the travel community as a whole is better because of her contributions and dedication to the industry and its members.
About The Cruise Web
The Cruise Web is an independent travel agency with over 25 years of experience with personal vacation planning. The Cruise Web provides the best vacation value for travelers around the world, saving their clients both time and money. To learn more, contact The Cruise Web today at 1-800-377-9383 (toll-free) or 1-240-487-0155 (international), and online at CruiseWeb.com.