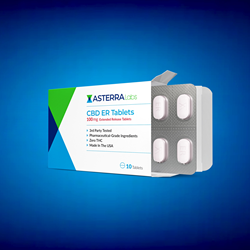 RALEIGH, N.C. (PRWEB) January 17, 2021
Years in the making, Asterra labs launched, and continues to launch, their new portfolio of CBD products over the holiday season. According to the company's website, their initial offerings include immediate release tablets and extended release tablets, with CBD Body Cream most recently launched in December.
Asterra Labs is currently formulating additional potencies and varieties of Cannabinoid products, which will launch in the near future.
You can view a comprehensive list of new and ready-to-launch products below:
Immediate-release tablets, available in 10 and 30 ct cartons. Customers can buy these in 25 mg, 50 mg and 100 mg strengths, packaged in unit dose blister cards for convenience and ease of use.
Extended-release tablets, available in 10 and 30 ct cartons with 100 mg of CBD, packaged in unit dose blister cards for convenience and ease of use. A 200 mg version will launch shortly, as well. Notably, Asterra Labs will soon offer a combination CBD/CBG Immediate Release Tablet, 50mg/50mg, packaged in bottles and cartons with unit dose blister cards.
To provide customers with the products they desire, Asterra Labs will be launching 25 mg and 50 mg Citrus Melts (Orally Disintegrating Tablets) in 10 ct & 30 ct and a 1500mg Full Spectrum Peppermint tincture, for those who prefer sublingual options. Additionally, assorted flavors of fruit chews will be launching in early 2021, for those who prefer gummies.
By launching their first topical in December 2020, Asterra Labs aims to provide CBD topical products that are in line with their quality and safety standards applied to their ingestible products. In addition to the body cream, a CBD Muscle Balm with 400mg of CBD, a CBD Cooling Cream with 800mg of CBD and finally a CBD Eye Cream with 25mg of CBD are planned for launch in early 2021.
Lastly, in the pipeline, customers can expect a new veterinary line of CBD products formulated for pets to launch in 2021. "Pet's deserve the same high quality CBD that we do," an Asterra Labs representative said.
To hold the pharmaceutical-grade claim that this company does, they've had to maintain stringent standards to which other CBD companies may not adhere. From a cleanliness regimen to the materials used to build their facilities, Asterra Labs follows the same guidelines as prescription and dietary supplement companies do.
They also source their materials only from cGMP-compliant suppliers. This means each supplier is subjected to a stringent qualification and auditing process to ensure their facilities and processes deliver high quality, safe and pure materials. In fact, Asterra Labs works with many of the same suppliers serving the prescription pharmaceutical industry.
You can learn more about Asterra Labs and their products at asterralabs.com.