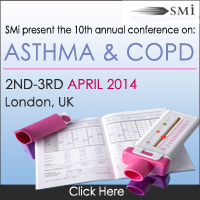 Experts from all walks of life will be able to hear on the latest news and how to overcome hurdles in regulatory, development and commercialization of Respiratory therapeutics and what opportunities and challenges exist in the field.
(PRWEB UK) 3 December 2013
The opening address will take place on 3rd April at the Marriott Regents Park Hotel, London UK.
The presentation entitled: U-BIOPRED Observational Study for Asthma, will be presented by 4 leading committee board members:

Peter Howarth, Head of Clinical Translational Research, University of Southampton
Noel Snell, Director of Research, British Lung Foundation
Fan Chung, Professor of Respiratory Medicine and Head of Experimental Studies, National Heart and Lund Institute
Chris Compton, VP and Global Programme Head, Respiratory Development, Novartis
Presentation highlights will include:
Reviewing the history and set-up of U-BIOPRED
Assessing the protocol and plans for the future
Insight into the basic cohort data and initial omics analysis for phenotyping
Industry perspective - How could this collaboration make for a beneficial output?
The conference will also feature the ECLIPSE Observational Study for COPD presented by Jorgen Vestbo, Professor of Respiratory Medicine at the University of Southern Denmark which will focus on:
Assessing how to measure inflammatory biomarkers to enhance patient outcomes
A review of the monitoring of patients over a 3 year period and how this links to biomarkers with clinical outcomes
What can we infer for treatment – what can we learn from biomarkers to enhance clinical trial outcomes
Asthma and COPD 2014 will aim to provide delegates with valuable insights into the latest ground-breaking advances in the respiratory drug market. It will focus on combination therapies, biomarkers in different pulmonary indications, clinical trial design, regulatory requirements, market access, treatments to prevent exacerbations plus much more. Visit the website at http://www.asthma-copd.co.uk to download a copy of the brochure.
A snap shot of attendees who have already confirmed their attendance include: Novartis, AstraZeneca, Teva, MHRA, Medlmmune and Vectura.
Anthony De Soyza, Clinical Senior Lecturer/Consultant from University of Newcastle, who will also be speaking at next year's conference commented:
"The upcoming Asthma and COPD conference will bring together global leaders from academia, clinical and pharma backgrounds to discuss the cutting edge of discovery and implementation of new drugs in these clinical arenas. Experts from all walks of life will be able to hear on the latest news and how to overcome hurdles in regulatory, development and commercialization of Respiratory therapeutics and what opportunities and challenges exist in the field."
Asthma and COPD 2014
2ND-3RD APRIL 2014
Marriott Regents Park Hotel, London UK
http://www.asthma-copd.co.uk