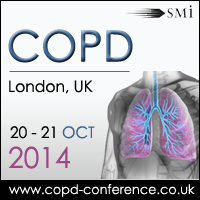 "The 6th COPD conference will bring together key opinion leaders from different stakeholders and will therefore foster this collaboration, especially by providing a very focused agenda." Bayer
London, UK (PRWEB UK) 3 July 2014
SMi Group are delighted to announce that the MHRA will be giving a keynote address at the 6th annual COPD conference which returns to London this autumn.
MHRA Senior Medical Assessor, Nithyanandan Nagercoil, will be providing attendees with regulatory guidance in his presentation entitled: Regulatory perspective in clinical development of medicines for COPD. Highlights from the talk include an update on recent advances, expectations in clinical developments and an overview of EU versus US requirements.
The MHRA keynote address will open the 2 day conference which takes place on 20th and 21st October at the Holiday Inn Regents Park Hotel in London, UK.
The latest instalment in the successful series has evolved to include topical and current sessions, such as Patient Care and The Future of COPD, as well as presenting attendees with in-depth information on exacerbation and comorbidities, ensuring a successful clinical trial design and challenges in drug development and market access.
Other speakers include:

Marcello Milano, Executive Global Regulatory Affairs, Chiesi
Thomas Schlange, Senior Biomarker Expert, Bayer
Mercedes Prior, Head of Global Market Access, Almirall
Carla Bauer, Investigator, Novartis
Jan-Anders Karlsson, CEO, Verona Pharma
Ewan Walters, Medical Director, Teva
Rosa Lamarca, Head of Clinical Statistics, Almirall
Robert Wilson, Consultant Physician Lung Division, Royal Brompton Hospital
Abebaw Yohannes, Reader in Physiotherapy, Manchester Metropolitan University
Jim & Mary Nelson, Patient, Caregiver, Representatives of COPD Foundation and EFFORTS Online Support Group
For a detailed agenda and to see the full speaker line-up, visit www copd-conference.co.uk.
COPD
20-21 October 2014
Holiday Inn Regents Park
London UK
visit www copd-conference.co.uk
---END---
About SMi Group
Established since 1993, the SMi Group is a global event-production company that specializes in Business-to-Business Conferences, Workshops, Masterclasses and online Communities. We create and deliver events in the Defence, Security, Energy, Utilities, Finance and Pharmaceutical industries.
We pride ourselves on having access to the worlds most forward thinking opinion leaders and visionaries, allowing us to bring our communities together to Learn, Engage, Share and Network. We hold events in over 30 major cities throughout the world including London, Paris and Singapore and to date have welcomed over 200,000 participants from 80 countries.
More information can be found at http://www.smi-online.co.uk.