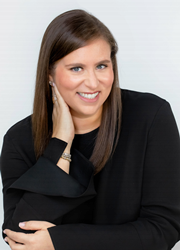 Of her new role, Kahn said, "This brand was a pioneer and with continued focus on our core values and hero SKUs, we can make the PÜR name synonymous with clean, skincare-infused cosmetics. I'm excited for what the future holds!"
ATLANTA (PRWEB) January 06, 2021
Astral Brands is proud to announce the appointment of Amanda Kahn as the Vice President of Marketing and Innovation for their mineral-based and clean beauty brand, PÜR - The Complexion Authority. Kahn succeeds Tisha Thompson who is stepping down from the role to spearhead a new opportunity that will be announced in 2021, after 15 years with the brand. Kahn brings with her a diverse portfolio of experience in Brand Marketing, Public Relations, and Social for both traditional beauty, as well as indie startups. She will now lead the way for PÜR with plans to expand the brand's reputation for groundbreaking clean, skincare-infused beauty and innovation with an intense focus on brand strategy, channel marketing, product development, and social media.
Of her new role, Kahn said, "PÜR has been innovating in the clean, vegan, cruelty-free beauty space for over 20 years. This brand was a pioneer and with continued focus on our core values and hero SKUs, we can make the PÜR name synonymous with clean, skincare-infused cosmetics. I'm excited for what the future holds!"
Amanda is a seasoned beauty brand builder with over 15 years of experience in color, skincare, and fragrance. Kahn began her career at The Estee Lauder Companies, where she gained valuable training in traditional marketing before expanding her expertise into global marketing and strategic planning at Coty Prestige on high-profile brands like Calvin Klein and Marc Jacobs. Over the years, Kahn has led the Marketing, Creative, and Public Relations teams for iconic brands like Kevyn Aucoin Beauty, Lipstick Queen, and Laura Geller New York. Her passion for beauty and business has led to an impressive list of notable achievements, including at Kevyn Aucoin Beauty, where she contributed to the successful launch of the Allure Best of Beauty Award-Winning Glass Glow Face Highlighter; as well as earning a bestselling product at ULTA Beauty four years through well-coordinated teamwork at Laura Geller New York and Lipstick Queen.
"I am proud and inspired by the PUR team as this company continues to rise to the challenge with grace and resilience, said Robert K. Cohen, Executive Chairman and CEO of Astral Brands. I want to thank Tisha for her enormous contributions and welcome Amanda to our Astral family. Together, we will make this one of our finest moments."
Astral Brands is a trailblazing skincare and beauty conglomerate comprised of industry leading brands. PÜR was founded by the company in the early 2000's, where it revolutionized the good-for-skin mineral makeup category with their top-selling 4-in-1 Pressed Mineral Powder. With over 15 years of groundbreaking product innovation and brand development, PÜR has expanded into a full line of makeup and skincare with fan-favorite products in foundation, lipstick, blush, cleanser, moisturizer and more. To learn more about PÜR, visit purcosmetics.com