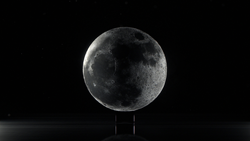 The closest you will ever get to the Moon.
Los Gatos, California (PRWEB) June 12, 2017
An ultra realistic Moon model with integrated Augmented Reality
The AstroReality Lunar Model is a 1/28,969,000 scale high definition 3D printed model of the Moon that you can hold in your hands. It's built with the most accurate 3D printing technology available in the market, which means it is modeled with 0.006 millimeters per pixel precise renderings of the moon's surface based on data captured by NASA's Lunar Orbiter science team.
This world's first lunar smart model features a high-resolution topography, where each topographic feature, each crater, is perfected by hand before it is finished with hand applied colors and a safe, protective coating.
Using advanced Augmented Reality technology, the AstroReality Lunar Model paired with the AstroReality app allows you to learn captivating facts, simulate Moon missions, learn trivia and embark on personalized lunar adventures from your home or the classroom.
The AstroReality Lunar Model will be launching on Indiegogo.com on July 11, 2017.
Special early bird pricing and a chance to win an AR enabled Solar System Mini Set will be available with sign up to AstroReality's email list on http://www.astroreality.com.