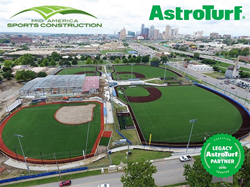 It has been a pleasure working with AstroTurf over the last decade and providing our customers with the most technologically advanced turf products on the market
LEE'S SUMMIT, Mo. (PRWEB) March 01, 2019
AstroTurf would like to recognize their valued partner, Mid-America Sports Construction, on the occasion of the tenth anniversary of their relationship. It was back in 2009 when Mid-America installed their first AstroTurf field and the two companies have had a strong and successful partnership ever since.
Mid-America Golf was formed 26 years ago as a full-service golf course construction company and only a year later they were performing their first athletic field construction. Mid-America quickly established themselves as an elite construction company and in the next few years, they built numerous natural grass fields before entering into the synthetic turf market in 2002. Over the next 10 years, they built well over 100 synthetic turf bases all across the central and southern United States and installed their first AstroTurf field in 2009. In 2011, Mid-America became an exclusive distributor of AstroTurf and since then the two companies have worked very hard together to give their customers the very best possible field building experience. Mid-America formed an additional company in the fall of 2013, Mid-America Sports Construction, to brand the athletic field side of the business.
"AstroTurf partnered with Mid-America Sports Construction in 2011 to be its exclusive field builder in the region. It has been one of the best decisions we could have made," said AstroTurf COO Philip Snider. "AstroTurf's ability to deliver exceptional playing surfaces start with controlling every component in our product. Having a great construction partner in MASC ensures that the field is installed by certified installers on an expertly constructed base. They live in the communities they serve and deliver excellent aftercare throughout the field life cycle"
As AstroTurf's exclusive distributor in the central region, MASC has worked on such notable projects as the University of Missouri Baseball, University of Oklahoma Football and Baseball, University of Kansas Baseball, University of South Dakota Football, Tulane Baseball, Kansas State Football and Baseball, KC Urban Youth for the Kansas City Royals, and countless others. Mid-America always likes to say, "We are only as good as our last project", and when you look at their impressive resume and some of their projects, you will see that they are really good.
"It has been a pleasure working with AstroTurf over the last decade and providing our customers with the most technologically advanced turf products on the market," said MASC President Kirk Grego. "Combine AstroTurf's amazing products with our construction capabilities and we have a tremendous offering for the client. We have always looked for highly difficult projects that take a more intricate approach than most contractors are willing to engage in. There is no project too large for us to take on."
With Mid-America's turn-key services, self-performing crews, complex project expertise, long-term commitment, full maintenance services, and quick response times, AstroTurf is proud to have such a great partner in the Central United States. Mid-America Sports Construction is truly AstroTurf's "Heart" in the "Heartland" and we look forward to many more years as having them as an AstroTurf Legacy Partner.
About Mid-America Sports Construction: Mid-America Sports Construction builds state-of-the-art athletic sports fields for all types of facilities. Whether it is a brand-new installation or a renovation project, we are certified to use both natural grass and synthetic turf solutions to meet your athletic needs. Our talented staff will carry out your sports field construction project on time and on budget. Learn more at http://www.mid-americasportsconstruction.com
About AstroTurf®
For athletes and sport enthusiasts, AstroTurf® has redefined the way the game is played. The brand offers advanced, state-of-the-art, multi-sport and specialized synthetic turf systems with proprietary engineered technologies. A growing number of high schools, colleges, professional sports teams and municipalities continue to select AstroTurf-branded products for their premium quality, technical superiority, and safety. To learn more, visit AstroTurf's website at http://www.astroturf.com.