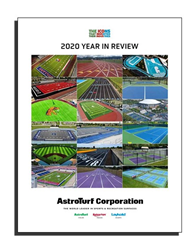 DALTON, Ga. (PRWEB) January 04, 2021
The years come and go so quickly. If you aren't careful, it's easy to let them go by without enjoying all the good things that happened during any given calendar year. We don't want that to happen to us. So, we hope that you will take a moment to reflect on the wonderful year full of accomplishments, victories, and fulfilling work. In 2020, AstroTurf Corporation left its mark on many communities providing them with high-performing playing surfaces that will be the subject of pride for organizations for years to come. We know that these aren't just synthetic fields, tracks, and courts we are installing - they are rallying points for fans, stages for great performances, landmarks for communities, and most importantly they're the places where your kids play.
Since 1965, AstroTurf has been building extraordinary fields for athletes of all ages to play on. AstroTurf is the inventor of synthetic turf, the leading innovator in the industry, and the most imitated brand in the turf industry. With over 55 years of customer trust, and over 55 years of providing superior products, we have much to celebrate. AstroTurf, along with our sister brands, Laykold, and Rekortan are the icons that invented their industries and are poised for a tremendous future. Please take a moment to look back with us on the incredible year that was 2020.
Access our 2020 Year in Review Book here: https://www.ifoldsflip.com/i/1315813-2020-year-in-review-astroturf-corporation
About AstroTurf:
For athletes and sport enthusiasts, AstroTurf® has redefined the way the game is played. The brand offers advanced, state-of-the-art, multi-sport and specialized synthetic turf systems with proprietary engineered technologies. A growing number of high schools, colleges, professional sports teams and municipalities continue to select AstroTurf-branded products for their premium quality, technical superiority, and safety. To learn more, visit AstroTurf's website at http://www.astroturf.com.