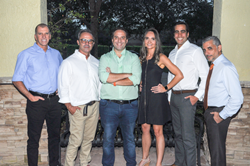 "My team and I see this launch as an exciting opportunity to use our combined skills in the different sectors of business to help entrepreneurs build a business by design, so they have a more complete set of tools necessary to set them on the path for success."
MIAMI (PRWEB) November 10, 2020
South Florida is a hotbed of Entrepreneurship. In fact, recent analysis shows that South Florida has the highest percentage of entrepreneurs among U.S. metropolitan areas with more than 1 million people, leading to significant growth in the development of start-ups and small businesses. Unfortunately, these small companies are the same ones getting hit the hardest by COVID-19, meaning that businesses have to learn how to quickly pivot and innovate to survive. That's where the newly expanded consulting firm The Profit Recipe comes in.
The Profit Recipe, first founded in 2013 by serial entrepreneur Cesar Quintero, utilizes the systematic approach of the Entrepreneurial Operating System (EOS) to help businesses set organizational discipline and structure to maximize their success and profitability by understanding six key elements: Vision, People, Data, Issues, Process and Traction. EOS tools are currently used by more than 80,000 businesses, showing that it has become the standard for systematized business growth.
In South Florida, Quintero's The Profit Recipe is the only certified EOS implementer. And now on November 1st, Quintero will be launching an expansion of The Profit Recipe with the addition of several new team members. This team of determined and successful immigrants will bring their experiences in different sectors of the business world to the EOS implementation process to help further push entrepreneurial leaders to think outside of the box.
Entrepreneurs are known for their creativity and energy, and Quintero and his team understand how businesses need to harness these tools to thrive even in these challenging economic times.
"Now is the time for businesses to pivot and innovate," said Quintero. "As the Profit Recipe now expands into a team of experienced implementors, my team and I see this launch as an exciting opportunity to use our combined skills in the different sectors of business to help entrepreneurs build a business by design, so they have a more complete set of tools necessary to set them on the path for success."
A critical aspect of EOS success is its master implementers-- they are the key to helping entrepreneurial leadership teams gain traction towards achieving their business vision.
The new Profit Recipe team consists of:
Cesar Quintero, The Purposeful Leadership Guy, Certified EOS Implementer. A serial entrepreneur since the age of 24, Quintero has experience in what works and doesn't in business after starting three different companies. Quintero centers his practice on purpose and making sure the leadership team can create alignment in its vision and gain traction to achieve that vision.
Franck Saragossi, The Ops & Expansion Guy, EOS Implementer. An entrepreneur who has worked in his family business, Saragossi also has decades of experience in successful growth and consumer alignment by helping start and expand well-known brands such as Pandora and Tiffany Co. in Latin America. Saragossi is the go-to guy for clarifying vision and then helping to arrange and execute the steps needed to achieve it.
Gerardo Escalona, The Finance & Private Equity Guy, EOS Implementer. As a serial entrepreneur involved in different businesses from a young age and Financial Advisor for family groups and corporations in Latin America, Escalona understands businesses' needs for today and the future. Escalona also has the remarkable ability to translate "finance speak" and set businesses on course for profitable success.
Elena Volnova, The Team Health Gal, EOS Implementer. With her experience as a retail online business owner for over 5 years in the wholesale distribution segment in addition to an MBA degree and Master's in Positive Psychology, Volnova has the perfect combination of business smarts and people management skills to help leaders create aligned teams that are engaged and accountable to fulfill the company vision.
Ruben Meoqui, The Ops and Franchise Guy, EOS Implementer. Meoqui has worked with well-known brands such as Blockbuster, FedEx, and H&R Block to organize expansion plans in addition to his entrepreneurial experience as the owner of a restaurant in Miami Beach. His results-oriented approach and stellar communication skills allow leaders to predictably replicate his success with their teams by standardizing systems and processes.
Romel Beiner, The Finance & Real Estate Guy, EOS Implementer. With over 12 years in Corporate Finance in P&G and 16 years of Real Estate experience (Buying/Selling/Investing/Managing and Developing) in South Florida, Beiner taps into a unique understanding of the role of technology, communication, collaboration and systems in the fields of real estate development and finance to balance innovation in these ever changing environments with tried and true business fundamentals.
About The Profit Recipe
As the only EOS certified implementer firm in South Florida, The Profit Recipe is poised to partner with entrepreneurs that realize that they can't do it on their own. Maybe they have tried other processes, taken courses or read the books everyone told them to read, yet they are still struggling to get what they need out of their businesses. The Profit Recipe's implementers provide both the knowledge, real world experience and guidance to help leaders unlock Business by Design-- team by design, leadership by design, life by design. The result is that leaders finally get the traction necessary to build a repeatable model that balances business goals with team and individual core strengths for sustained value creation.
The newly expanded and diversified Profit Recipe team has the recipe for success: Purpose + Traction + Healthy Teams = Life by Design