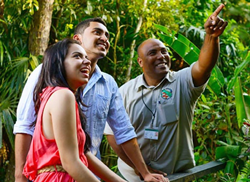 it's encouraging to see more travellers seeking these sorts of experiences,
SAN IGNACIO, Belize (PRWEB) January 16, 2019
Belize tourism is set to come alive with cultural, culinary and educational adventures in 2019 thanks to a new range of vacation packages being offered by The Lodge at Chaa Creek.
Chaa Creek's PR officer Denise Duran said the new vacation offerings are a continuation of the popular jungle lodge's commitment to connect visitors with the people and cultures of Belize.
"For nearly forty years, Chaa Creek's owners have combined education with adventure and all the elements of a great vacation to create unique experiences that, more and more, appeal to today's travellers," she explained.
"And while having our guests relax and enjoy quality time remains our priority, Mick and Lucy Fleming have always seen vacations as opportunities for visitors to come away more connected, and with a deeper understanding of the countries they visit.
"That's the idea behind Chaa Creek's 'Connected Vacations'," Ms Duran said.
Since the Fleming's small working farm became Belize's first eco-resort in 1981, the couple built an extensive menu of Belize vacation packages that cater to a wide variety of visitors, interests and budgets.
For example, in addition to tours and visits to villages where guests are encouraged to interact with local communities and receive hands-on instruction in skills such as Maya chocolate and tortilla making, Chaa Creek's Belize Cultural Grand Tour takes guests on a countrywide excursion that includes visits to Maya, Mestizo, Creole and Mennonite communities, with a stay at the seaside village of Hopkins for an immersive Garifuna cultural experience.
Ms Duran said the "Connected Vacations" concept is part of Chaa Creek's approach to sustainable tourism.
Lucy Fleming agrees.
"We believe that connecting people from different cultures is an essential part of sustainable tourism. We've also seen that the more people learn about this world we share, the more they come to appreciate, value, and hopefully take responsibility for its future."
Ms Fleming explained that Chaa Creek's connected vacations are designed to engage both locals and visitors.
Locally, Chaa Creek has been active for years in educational outreach programs for Belizean schools, and sponsors initiatives such as the annual "Eco-Kids" educational summer camp that each summer hosts 24 young Belizeans on a free, weeklong learning adventure at Chaa Creek's Macal River Camp.
Chaa Creek's Belize Natural History Centre (NHC) and Butterfly Farm are two onsite attractions that are popular with both overseas and local visitors, and have outreach programs to teach students about their natural world and cultures, according to the NHC's Brion Young.
"So far in 2018 alone we've welcomed over 1,500 local students and some 1,910 international students at the Natural History Centre and butterfly farm, and our "Butterflies on the Road" program has been a hit with almost 800 local students," Mr Young reported.
Between November 2017 and August 2018, Chaa Creek contributed almost BZD $64,000 (USD$32,000) towards student scholarships, training, and other educational initiatives.
Ms Duran added that, in addition to village visits and cultural tours, Chaa Creek also connects visitors with Belize and Belizeans through projects such as "Pack-a-Pound," which encourages guests to pack or post a pound or more of school supplies to be donated to needy Belizean students
"Guests say 'Pack-a-Pound,' which has distributed hundreds of pounds of school supplies among rural schools over the years, adds something to their vacations and leaves them feeling more connected to local communities.
"And a sincere 'thank you' from deserving students is a wonderful souvenir."
New for 2019, Chaa Creek is also launching an "Open Hearth" project that will see guests explore Belizean cooking and culture with fun, interactive activities, Ms Duran said.
"We're currently completing construction on a representational, traditional Belizean village kitchen with open walls that will allow guests to see, and actually participate in the preparation of iconic Belizean meals, drawing on Maya, Creole, Mestizo, Garifuna and other culinary traditions. 'Open Hearth' will blend food and culture and have guests returning home with new recipes and cooking skills," she said.
Ms Fleming added that the success of "Connected Vacations" shows how today's tourists are seeking deeper, more meaningful experiences when travelling.
"Rather than considering nature and local communities as just a backdrop or setting for their vacations, many of today's travellers are looking to learn about, engage, and connect with the local people they meet, and we think that's a very good thing.
"In addition to enriching our guests' travel experiences, connected vacations engage local communities with international visitors and give our own work more meaning and value as well," Ms Fleming said.
"We see the growing trend towards sustainable tourism and responsible travel as a very positive development, and it's encouraging to see more travellers seeking these sorts of experiences," Ms Fleming said.
The Lodge at Chaa Creek is a multi-award winning eco resort set within a 400-acre private nature reserve along the banks of the Macal River in Belize. It was recognised by National Geographic with first place honours at the 2017 World Legacy Awards held in Berlin.
ENDS