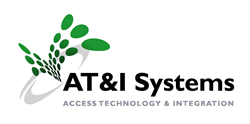 "Our expert staff manages the programming and entire security system so our customers never have to." Oscar Weinberg, Owner.
COOPER CITY, Fla. (PRWEB) December 08, 2018
Access Technology & Integration, a local security business serving major cities throughout the state, recently gave the company's website an impressive face lift. The more responsive platform offers a better overall experience for current and potential clients.
Whether users are exploring AT&I's Access Control, CCTV Systems, Intrusion Alarms, Commercial Intercom or Gate Entry Systems services or have trouble reconciling work order invoices, one thing is for sure – clients will never waste time trying to track down the service company. The business's experience and expertise, along with its ATI Notify communications system, is designed to provide a real-time response to every client need.
With a target on homeowners associations, commercial businesses and financial institutions, AT&I's services not only include installation, fabrication and gate servicing, but their high-definition Surveillance Systems can track those entering the property; protect expensive technology and merchandise; and keep staff and customers safe with Burglar Alarms, Access Control and a notification system via its ATI Notify Service.
"Our services have been said to provide peace of mind like no other security company," said Oscar Weinberg, AT&I Systems' Owner. "We not only keep assets and employees safe, but our expert staff manages the programming and entire system so our customers never have to. We understand that there is so much more to security than the surveillance security system. It's the business environment behind it that helps us build a unique solution to meet day-to-day conditions, as well as respond quickly should an emergency situation arise, helping our partners get back to business without ever worrying that employees or assets are in danger."
It is this philosophy that has allowed the 25-year-old business to narrow in on the services that are needed the most by their clients and partners. Additional solutions include Virtual Guard, which automatically connects the video surveillance systems to live guards when an event occurs, and Cloud Managed Solutions, including database programming, video retrieval, video system management, access system management, database back up, cloud servers, onsite equipment maintenance, and software & firmware updates. Its license plate recognition and security integration system identifies a license plate, helping to safeguard a site, while pairing with security cameras and software, as well as video analytics, cloud-based access and virtual attendant access.
About AT&I Systems
For the past 25 years, Access Technology & Integration has been providing protection for valuable assets at businesses across Florida with its gate servicing, access control and video surveillance positions. The company's internal processes meet the needs of clients, while providing constant communication to ensure the safety of employees, customers and assets.
For more information, visit http://www.atisecuritysystems.com or call 954-727-1724.