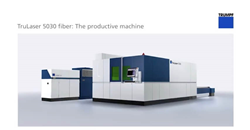 ATACO's decision to purchase a TRUMPF 5030 12kW laser aligns with their vision to be technically advanced and strategic in their investment decisions. With its high processing speed and reproducible part quality, the 5030 sets high standards of productivity and cost-efficiency.
CEDARBURG, Wis. (PRWEB) February 19, 2021
ATACO Steel Products is pleased to announce that they're prepping the area where their new 12k watt laser will be producing parts upon delivery in March.
With its high processing speed and reproducible part quality, the TRUMPF TruLaser 5030 fiber handles even complex contours with relative ease. Solid-state 12kW laser power ensures the ability to achieve excellent feed rates and cutting speeds including the capability to cut mild steel up to 30 mm thick and standard sheet sizes of 3000 mm x 1500 mm with a max weight of 1800 kg for one pallet.
This powerhouse features dynamic drives, high axis speeds, and a high degree of automation in custom steel laser cutting.
Other Reasons the TruLaser 5030 fiber is Cutting Edge Technology

It has minimal part costs. Due to powerful drives and dynamic axis motions, it has high machine dynamics even for complex contours.
TRUMPF designed the laser so every single KW hits the sheet metal. This results in high feed rates and the ability to process the workpiece productively.
A newly-designed nozzle reduces nitrogen consumption by 70% for double the sheet throughput.
The machine is more intuitively operated with multi-award-winning Touchpoint HMI. It runs faster without sacrificing performance.
Smart nozzle automation allows the nozzle changer to be pulled out while the machine is in operation and be set up parallel to production.
This laser quickly and easily cuts oversized sheets measuring 6 x 2 m.
It cuts intricately even in thick mild steel using the CoolLine function. Benefits include new geometries, closer nesting and increased process reliability for the processing of thick mild steel.
BrightLine fiber ensures the best results without compromise for excellent part quality and seamless part removal.
AdjustLine enables our operators to adjust the cutting process to materials of different quality. This means cost-savings for you with less scrap and lower material costs.
Collision protection for the cutting head guarantees the highest process reliability and less non-productive downtime.
Located in Cedarburg, Wisconsin, ATACO Steel Products is a leader in the sheet metal fabrication industry. By upgrading to the latest manufacturing methods, they continue to ensure customer satisfaction in every project. In addition to purchasing the TRUMPF 5030 12kW Laser, they will also be taking delivery of a new TRUMPF 5130 series 130-ton press brake, next month. ATACO Steel has been customer-focused since 1946 with repeat business their constant goal.
ATACO Steel is committed to providing quality parts on time and on budget. Request a quote or contact them today to learn more about how ATACO Steel Products exceeds expectations.