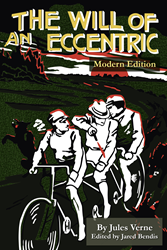 Cleveland, Ohio (PRWEB) February 23, 2016
Jules Verne, the father of science fiction, was also the king of the travel adventure novel.
The year is 1897 and eccentric millionaire William J. Hypperbone has died! The terms of his will dictate 6 players be randomly chosen to compete for the $60 million inheritance. To win they have to play his favorite board game "The Noble Game of the Goose" but on a much grander scale – a race around the country in "The Noble Game of The United States of America"! Which of these brave adventurers will have the luck of the dice (and circumstance) to win "The Will of an Eccentric"?
Verne is as brilliant as ever here; he takes the Baedecker guidebook for the United States, which had only recently been published, and incorporates it into his narrative. The book alternates between the description of plot & action with the description of places & culture. It is not just a fun adventure, but a look at America (and Americans) through the eyes of a European at the end of the 19th century.
Jules Verne's epic adventure around the United States was never published in the US during his lifetime and this modernized edition brings this obscure book to a new generation.
This Modern Edition is a scholarly work and not just a straight reproduction of the 19th century British edition. Modern means the reader won't need a dictionary to search for obscure and obsolete 19th century terms (which most of the time were British choices for French words). When first published, the book contained many logical inconsistencies and continuity errors that have also now been resolved. As with any scholarly edition, all changes have been carefully documented and annotated. These changes, along with the correction of typos & translation errors create a thoroughly enjoyable reading experience that remains true to the Verne original.
The Will of an Eccentric ISBN (978-162613-0647) is available in print via Ingram, Amazon, & Barnes & Noble and as an eBook for Kindle, Nook, and Apple.
ATBOSH Media Ltd (http://www.ATBOSH.com) is a full-service Cleveland-based publisher that publishes emerging and mid-career authors in almost any genre or subject in a wide variety of media, including hardcover, paperback, magazine, comic-book, CD, DVD, eBook, board games, card games, software and apps.