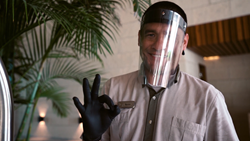 Shielded Vacations program which was developed by our medical staff and health experts", commented Oliver Reinhart, CEO of ATELIER de Hoteles.
CANCÚN, Mexico (PRWEB) August 15, 2020
ATELIER de Hoteles, the Mexican hotel chain famous for its innovative Handmade Hospitality®, announced that its properties, both in Cancun and Playa Mujeres, are ready to restart operations.
Following the latest recommendations and reports by both local and federal authorities and official health departments, as well as the World Health Organization (WHO), for preventing infection from COVID-19, ATELIER de Hoteles has adopted new and strict sanitary measures as part of its program called Shielded Vacations.
"In ATELIER de Hoteles hygiene and cleanliness have always been an integral part and fundamental to the luxury service for which we are famous, and the new protocols and official regulations regarding care and prevention are just a logical extension of our Shielded Vacations program which was developed by our medical staff and health experts," commented Oliver Reinhart, CEO of ATELIER de Hoteles.
With this in mind, ATELIER de Hoteles has made the http://www.atelierdehoteles.com.mx/shielded-vacations website available to guests, where they can consult the program's actions in detail, especially the following:

Upon arrival there will be sanitizing mats for shoes, and guests' suitcases will be nebulized.
In order to reduce physical contact, resorts in Playa Mujeres will offer a novel mobile application for checking-in, consulting restaurant menus, chatting with the e-concierge and ordering suite service.
Anti-bacterial gel dispensers will be placed in all public areas and all food and beverage outlets.
A "Health Squad" will be created for cleaning and disinfecting rooms, public areas, offices and areas with heavy foot traffic.
Anti-COVID-19 spraying will be implemented in all suites, both before guests' arrival and constantly thereafter in restaurants, gym, spa and other public areas.
Safe distancing will be applied in all food and beverage outlets.
An obligatory hand washing program, every 30 to 45 minutes, will be introduced.
Use of "Global 9" and "USA Clean Line" chemical and detergent products for washing and disinfecting all areas.
"In addition to our own processes, we strictly adhere to operating regulations of the Distintivo H hygiene certification and we are also in the process of obtaining the new Quintana Roo Certification for Sanitary Protection and Prevention in Tourist Establishments, implemented by the Quintana Roo State Tourism and Health Services Departments," declared Mascia Nadin, Director of Operations at ATELIER de Hoteles.
About:
ATELIER de Hoteles is an innovative and ground-breaking Mexican hotel chain born in 2015, with contemporary Mexican art setting it apart and acting as the common denominator in its concepts, which include strategy, passion and commitment. ATELIER de Hoteles offers in its four brands, ATELIER, ESTUDIO, ÓLEO and MET, relaxed luxury with the highest in service standards in its properties, currently located in the Hotel Zone and Playa Mujeres, both in Cancun, Quintana Roo, and with openings planned in the near future for the most important beach and business destinations in Mexico.