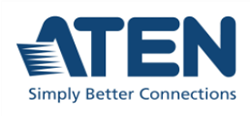 IRVINE, Calif. (PRWEB) November 09, 2021
ATEN Technology, Inc., the technology leader and global manufacturer of KVM and AV/IT connectivity and management solutions, today announced its UC9040 StreamLIVE™ PRO All-in-one Multi-channel AV Mixer has been recognized with the Next TV NAB Best in Market 2021 Award.
The StreamLIVE™ PRO is a portable, all-in-one, multi-channel audio/video mixer device that integrates a 1080p video capture, video recorder, video switch, stream broadcaster, video converter, video splitter, and audio mixer into one compact box to eliminate the hassle of working with different AV equipment. The StreamLIVE™ PRO makes HDMI video sources broadcast for higher quality livestream to CDN platforms such as YouTube Live, Facebook, and Twitch.
"We are honored to be recognized by Next TV NAB for this award," said Christian Young, Product Manager, ATEN. "The Best in Market recognition further underscores ATEN's commitment to developing and bringing to market high-quality products such as UC9040 StreamLIVE™ PRO to resolve the challenges independent livestreaming broadcasters face."
Additionally, the StreamLIVE™ HD provides an intuitive app, OnAir™ Pro App, making it easy to monitor, edit image layouts, and DVE, PiP or PbP settings. There are eight stunning DVE transitions including circle drop, window slice, polka dot, circle open, fade, heart, cross hatch and random square. The StreamLIVE™ PRO is PC and software-free. It supports Android APP, simultaneous streaming and recording, Restful API control and OnAir remote control application support with Chromebook. Its well-designed control panel makes livestreaming operations seamless. Video and audio levels can be monitored and previewed before going live with a web broadcast. Simply connect video/audio sources, and an Ethernet with an ATEN app-installed iPad / Android tablet, to livestream quickly and easily.
The StreamLIVE™ PRO has an ergonomic and practical design, flexible enough to fit all independent livestreaming broadcasting environments. With a rich feature set, the StreamLIVE™ PRO addresses the challenges that independent livestreaming broadcasters encounter and provides an easy-to-use solution.
ATEN's UC9040 StreamLIVE™ PRO is available for purchase and shipping now through ATEN's distribution and reseller partners: http://www.aten.com/us/en/where-to-buy/. For more information, product features and technical specifications, visit:
https://www.aten.com/global/en/products/usb-&-thunderbolt/content-creation/uc9040/
About ATEN Technology, Inc.
ATEN Technology, Inc. is the technology leader and global manufacturer of KVM and Pro AV connectivity solutions, and the U.S. subsidiary of ATEN International Co., Ltd. (TWSE: 6277), established in 1979. A certified member of the HDBaseT Alliance, holding over 630 industry patents, ATEN offers integrated KVM, Professional Audio (Pro AV) and Intelligent Power solutions, across all industries including corporate, commercial, government, industrial, entertainment, educational and retail environments.
A technology-first company, ATEN's advanced ability to quickly develop customized solutions in KVM, Pro AV, PDU, USB and data communication lines allows the company to build products that connect, manage and optimize electronics based on customer need. ATEN's comprehensive portfolio of innovative, reliable products is available worldwide, with local U.S support.
For more information, visit: http://www.aten.com/us/en/ and follow @ATENConnect on Twitter or on LinkedIn.
Products, service names and company logos mentioned herein may be the registered trademarks of their respective owners. All rights reserved.