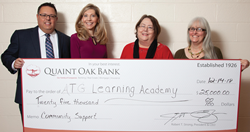 "We are very pleased to have the opportunity to support these educational centers within our community, and the [ATG Learning Academy] students that benefit from our participation..." — Robert T. Strong, President, Quaint Oak Bank
CHALFONT, Pa. (PRWEB) January 14, 2019
ATG Learning Academy, a licensed 501(c)(3) Private Academic & Neuroplasticity School in Bucks County serving grades 1-12, specializing in cognitive repair for students with traumatic brain injury (TBI) and learning differences, today announced it has received a $25,000 donation from Quaint Oak Bank.
The donation, part of Quaint Oak Bank's Community Support initiative, were made in December 2018 through the Pennsylvania Opportunity Scholarship Tax Credit (OSTC) program.
"We believe that education supports the growth and vibrancy of the communities we serve," said Robert T. Strong, President and CEO, Quaint Oak Bank. "We are very pleased to have the opportunity to support these educational centers within our community, and the students that benefit from our participation in the OSTC program.
The OSTC program, according the Pennsylvania Department of Community & Economic Development, gives "tax credits to eligible businesses" in exchange for those businesses providing "tuition assistance, in the form of scholarships, to eligible students residing within the boundaries of a low-achieving school, [allowing those students] to attend another school outside of their district." Tax credits may be applied against the tax liability of a business for the tax year in which the contribution was made.
"Quaint Oak Bank's donation could not come at a more critical time in our school's history," said Kathleen Smookler, Head of School, ATG Learning Academy. "Our recent relocation to Pickertown Rd. in Chalfont has increased our capacity, both in terms of headcount and how we teach students with Traumatic Brain Injury and learning differences."
"We're so grateful to Quaint Oak Bank for taking advantage of the OSTC program, and we can't wait to put the funds to work for a deserving student and in our classrooms," Smookler added.
Quaint Oak Bank has announced it has donated a total of $75,000 in scholarship dollars to help support education funding in the Bank's local communities in December 2018.
Businesses interested in participating in Pennsylvania's OSTC program to support ATG Learning Academy may apply at https://dced.pa.gov/programs/opportunity-scholarship-tax-credit-program-ostc.
About Quaint Oak Bank
Quaint Oak Bank, is a Pennsylvania-chartered stock savings bank. Its subsidiary companies include Quaint Oak Abstract, LLC, Quaint Oak Insurance Agency, LLC, Quaint Oak Mortgage, LLC and Quaint Oak Real Estate, LLC. Quaint Oak Bank is headquartered in Southampton, Pennsylvania. The Quaint Oak family of companies conduct business through two regional offices located in the Delaware Valley and Lehigh Valley markets along with a New Britain Township location.
Learn more about Quaint Oak Bank at http://www.quaintoak.com.
About ATG Learning Academy
Approximately one in five U.S. children have learning and attention issues that affect their ability to learn in conventional educational settings. Students with learning differences, particularly those in the public school system, are often at risk of not receiving the attention and personalized schooling they need to succeed. At ATG, students are taught the way they learn best, allowing them to unlock their full academic, cognitive and societal potential.
ATG Learning Academy specializes in individualized learning and support for children with processing disabilities. The school provides individualized learning in a safe environment, so students with learning differences can achieve their academic goals. As a licensed 501(c)(3) Private Academic & Neuroplasticity School, ATG depends on support of the community in order to provide the best setting for education possible for their students.
In addition to fundraising events, Central Bucks community members contribute to ATG throughout the year via corporate match and retail giving services such as AmazonSmile, Paypal, GoFundMe, and Ammado. For more ways to donate, please visit ATGLearningAcademy.com/Support-ATG.
Thank you for supporting ATG.