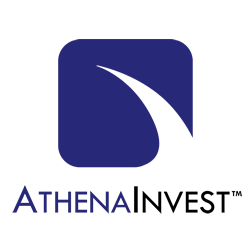 "We focus on medium to long-term signals and trends," says C. Thomas Howard, CEO and Chief Investment Officer of AthenaInvest. "This is the behavioral sweet spot for us, where we see opportunity to deliver attractive long-term returns by knowing both when to trade and when not to trade."
DENVER (PRWEB) February 21, 2019
AthenaInvest, (https://www.athenainvest.com) the leader in Behavioral Portfolio Management, today announced that the Athena Global Tactical ETFs portfolio ended last year (12/31/18) with Morningstar's highest rating of 5-Stars Overall out of the 300 strategies in the Tactical Allocation category. The 5-Star rating recognizes risk-adjusted performance in the top 10 percent of a category, a rating the Athena Global Tactical ETFs has achieved for 17 consecutive quarters, since Morningstar began tracking the portfolio against the Tactical Allocation category.
Designed to deliver long-term growth, the portfolio invests in major global equity markets to capitalize on the most attractive market opportunities while also managing significant downside risk. The market rotation strategy is driven by AthenaInvest's patented research which measures macro-level crowd behaviors.
"We are very pleased to see how our Behavioral Market Barometer has informed our market approach over the years, particularly given the increase in volatility in 2018," comments C. Thomas Howard, PhD, CEO and Chief Investment Officer of AthenaInvest. "Our advisor-clients want a portion of a portfolio to be flexible enough to respond to market changes and our tactical portfolio meets that demand."
Demand for tactical solutions has increased over the last four years with the number of strategies in the Tactical Allocation category more than doubling, according to Morningstar.
"There is variation in the Tactical Allocation category and we believe it is difficult to generate superior returns with short-term trading strategies," adds Howard. "We focus on medium to long-term signals and trends. This is the behavioral sweet spot for us, where we see opportunity to deliver attractive long-term returns by knowing both when to trade and when not to trade."
Dr. Howard is a recognized thought leader in the application of behavioral finance for investment management and is the architect of the portfolio's unique strategy.
The Athena Global Tactical ETFs portfolio is one of several behavioral strategies managed by AthenaInvest. For more information, please visit https://www.athenainvest.com or call (877) 430-5675.
About AthenaInvest Advisors LLC
AthenaInvest is the industry leader in Behavioral Portfolio Management with a patented research process built on a deep academic foundation developed over 35 years of interaction with leading academics and institutional managers by C. Thomas Howard, PhD, CEO and Chief Investment Officer. AthenaInvest analyzes persistent and predictive behavioral factors to build innovative investment strategies including value equity, high-dividend equity and global tactical equity. AthenaInvest is a sub-advisor to Princeton Fund Advisors and ICON Advisers. Headquartered in Greenwood Village, Colorado, AthenaInvest is a SEC Registered Investment Advisor.
Media Inquiries
Pamela Saunders
(415) 254-7169
Pamela.Saunders(at)AthenaInvest(dot)com
© 2019 by AthenaInvest, Inc. All Rights Reserved
Protected by US Patents 7734526, 8352347, 8694406 and Singapore Patents 150371 and 184692 and Taiwan (R.O.C.) Patent 200829170.
http://www.athenainvest.com
PAST PERFORMANCE IS NO GUARANTEE OF FUTURE PERFORMANCE.
Morningstar Ratings™ are based on risk-adjusted performance as of 12/31/2018. The Morningstar Rating™ for a strategy is derived from a weighted-average of the performance figures associated with its three-, five- and ten-year (if applicable) Morningstar Rating™ metrics. For each strategy with at least a three-year history, Morningstar calculates a Morningstar Rating™ based on a Morningstar Risk-Adjusted Return measure that accounts for variation in a strategy's monthly performance (including the effects of applicable fees), placing more emphasis on downward variations and rewarding consistent performance. The top 10% of strategies in each category receive 5 stars, the next 22.5% receive 4 stars, the next 35% receive 3 stars, the next 22.5% receive 2 stars and the bottom 10% receive 1 star.
© 2019 Morningstar. All Rights Reserved. The information contained herein: (1) is proprietary to Morningstar and/or its content providers; (2) may not be copied or distributed; and (3) is not warranted to be accurate, complete or timely. Neither Morningstar nor its content providers are responsible for any damages or losses arising from any use of this information. Past performance is no guarantee of future results.
It should not be assumed that recommendations of AthenaInvest made herein or in the future will be profitable or will equal the past performance records of any AthenaInvest investment strategy or product. There can be no assurance that future recommendations will achieve comparable results. You are solely responsible for determining whether any investment, investment strategy, security or related transaction is appropriate for you based on your personal investment objectives and financial circumstances. You should consult with a qualified financial adviser, legal or tax professional regarding your specific situation. Investments involve risk and unless otherwise stated, are not guaranteed. Past performance is not indicative of future performance.