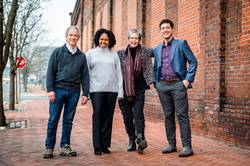 PHILADELPHIA (PRWEB) February 05, 2021
Two prominent mission-driven Philadelphia real estate firms have come together to form a new powerhouse: AR Spruce. Effective October 1, 2020, AthenianRazak and Spruce Real Estate Partners merged to create AR Spruce, a new firm with unique character, vision, and capability, led by four principals: Maleda Berhane, Jackie Buhn, Alan Razak, and Philip Voutsakis.
The combination amplifies the two firms' already deep capabilities to plan, create and manage real estate for its clients and its own portfolio. From early phase planning and feasibility to design and construction management to property management to repositioning distressed assets ("REO"), AR Spruce's collective experience provides consummate expertise in every part of the real estate cycle, whether in big projects or small.
Beyond a simple merger of two companies, AR Spruce represents a conscious effort to advance change in the real estate industry, knowing that diverse teams can produce better processes and projects. The focused team that makes up AR Spruce has a common goal of achieving financial objectives by making the world better, emphasizing equity, sustainability, and respect for all.
The AR Spruce team already has a remarkably successful track record with complex projects like development of the Philadelphia 76ers Training Complex in Camden, the African American Museum in Philadelphia, restoration of the steeple at Philadelphia's historic Christ Church, development of the LEED-certified transit-oriented Pembroke North condominium in Wayne, PA, renovation of 833 Chestnut Street in Philadelphia, and serving as Owner's Rep for Lenfest Hall at the Curtis Institute of Music, the Global Leadership Academy Charter School, and the CB2 (Crate & Barrel) store on Walnut Street in Philadelphia.
Principal and CEO Maleda Berhane says, "As a woman of color in the real estate industry, this move is deeply personal to me. I'm eager to embark on this journey which allows us to share our collective set of skills and experiences on future projects! As four individuals from a diverse set of backgrounds, we realize the value of intention and the positive impact our mission-driven approach has on the built environment."
Adds Principal Jackie Buhn: "The continuity and success of woman and minority-owned firms is important, so you can imagine my delight as I got to know and work with Maleda, who is brilliant at bringing teams together to succeed in complex projects."
"The challenge for us was how to reinforce our agility and depth with talent to take us to the next level and the next generation," Principal Alan Razak said. "It was important to me that we expand our capabilities with colleagues who don't look like me; by joining forces, we offer each other important new perspectives and skills."
AR Spruce's current projects include working with Make the World Better Foundation on two Philadelphia Rebuild sites: Vare Recreation Center and Waterloo Playground, master-leasing and reimagining the Station Shops at SEPTA's Suburban Station, handling two multi-family receiverships in West Philadelphia, restacking (in every sense of the word) at the American Philosophical Society, and other planning, development, and management projects about to start.
AR Spruce is in process of WBE and MBE Certification.