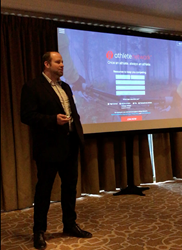 Kansas City, MO (PRWEB) May 16, 2017
Athlete Network Founder and CEO Chris Smith was a keynote speaker last Thursday morning at the bi-annual Marques Ogden Speaking Academy. Smith addressed a large contingent of former athletes as they prepare to transition out of sports. The Athlete Network CEO focused his presentation on key tips for the athletes to use when developing their brand and website as they begin their careers as public speakers and entrepreneurs.
"It was an honor to be invited to speak at the Academy," said Smith. "Many athletes struggle with their athlete mindset when transitioning out of sports. It's important that they have services such as Athlete Network and the Speaking Academy to fuel that mindset to continue to be successful in whatever their next stage of life may be."
The Speaking Academy was hosted by former NFL player and current public speaker, Marques Ogden. It featured over 100 attendees and was held May 10th – 11th at the Sheraton Kansas City Hotel at Crown Center. Some notable athletes in attendance included NFL veterans David Garrard, Kyle Brady, and Kendall Gammon, as well as, Olympic athletes Lauryn Williams and Mara Abbott. Athlete Network was a title sponsor of the event and local host.
The next Ogden Speaking Academy conference will be held this fall in Baltimore, MD.
About Athlete Network: Athlete Network was founded with a simple mission - create an online community where athletes can fuel their driven lifestyle. Over one million athletes have accessed their services to network with fellow athletes and gain the most efficient access to employers that embrace their competitive mindset and push it to higher levels. Their Influencer group of former professional athletes and sports industry executives provide advice and commentary in the Athlete Network blog. Visit https://www.athletenetwork.com for more information.