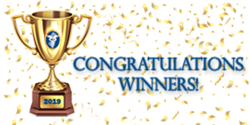 SOMERSET, N.J. (PRWEB) March 05, 2019
The Athletic Trainers' Society of New Jersey (ATSNJ) is proud to recognize the seven individuals who were selected as award winners at the 33rd Annual Conference and Business Meeting. These individuals have made an impression on the profession of athletic training within New Jersey. The ATSNJ is thankful for their positive contributions and is honored to award 3 scholarships, the ATSNJ Presidential Award, the Dr. Timothy Hosea, MD Team Physician Award, and 2 ATSNJ Loyalty and Commitment Awards.
ATSNJ Presidential Award - Senator Patrick J. Diegnan, Jr.
Senator Patrick J. Diegnan, Jr. currently represents District 18 in the New Jersey State Senate and previously served in the New Jersey General Assembly as Parliamentarian and Deputy Speaker. Senator Diegan has been front and center in many of our most important goals. As we have continued to engage with our legislators to further protect those that we work with, most especially our student- athletes at the secondary school level. ATSNJ President Christina Emrich had this to say about Senator Diegnan:
"As an avid sports enthusiast, Senator Patrick Diegnan has always been a stalwart supporter of the different avenues, including legislation, to improve and protect the athlete's health and safety, and has recognized athletic trainers as the appropriate healthcare providers in delivering expert care. Instrumental in the passing of the New Jersey Concussion Law, he has now worked tirelessly with ATSNJ over the past year to sponsor a health and safety package to further protect our secondary school athletes. The ATSNJ is privileged that he sees the need to update our athletic training practice act to include providing expert and appropriate healthcare to all individuals, we honor his sponsorship and his trust."
Dr. Timothy M. Hosea, MD Team Physician Award - Dr. John "Jack" Kripsak. DO
The Timothy Hosea Award is a team physician award, and with good reason. Dr. Hosea was a team orthopaedic physician at the secondary school, collegiate and Olympic levels.
Dr. Kripsak has served as a Team Physician in the high school, collegiate, and professional sports settings. At the high school level, he has served as a Team Physician and/or Chief Medical Inspector at several schools in the area in which he has his practice. He is currently the NJSIAA Medical Advisory Committee Chair, a role that he is honored to have been chosen for after serving on the committee under Dr. Hosea. In his role, Dr. Kripsak has dealt with several topics important to athletic trainers including but not limited to: pre-season practice and hydration guidelines, wrestling hydration and weight certification, steroid testing policy creation, and student-athlete post-concussion guidelines. Dr. Kripsak has served as a consultant for the Rutgers University Sports Medicine Department, and has served as a Team Physician for the Somerset Patriots minor league baseball organization, and several AVP professional beach volleyball events. As an avid lacrosse fan, Dr. Kripsak has been involved with the NJ State High School Lacrosse All Star game as well. ATSNJ President Christina Emrich states: we are honored to present this award to Dr. Kripsak. He has always been a huge supporter of the secondary school athlete and recognizing athletic trainers as the appropriate healthcare providers taking care of these athletes.
ATSNJ Media Award - Greg Tufaro, USA Today
Greg Tufaro has been selected as the 2019 ATSNJ Media Award recipient.
Greg is a true advocate for healthcare. On a personal level, Greg and his wife currently participate on a patient care advisory board Nationally that discusses post-transplant lymphoproliferative disorder, a rare form of blood cancer that unfortunately claimed their 13 year old daughter two years ago. Greg has covered high school and collegiate sports for the Home News and Courier News and has also served as USA Today's Rutgers University basketball program's beat writer. Greg has been honored four times by the Associated Press, in the following areas: investigative reporting, game story writing, breaking news and news reporting. More importantly for us, Greg was honored by the Hypertrophic Cardiomyopathy Association, for his work, along with Senator Diegan, on the issue of sudden cardiac death in young athletes. Their hard work resulted in legislation being passed in NJ requiring school districts to share information on this subject with their student-athletes. We are honored to recognize Greg with this award for his efforts focusing on promoting important public awareness of various health issues impacting our student athletes and thank him for his hard work and diligence in this area, states Christina Emrich, ATSNJ President.
ATSNJ Loyalty and Commitment Award - Leeann Pearce, ATC
The ATSNJ Loyalty and Commitment Award, recognizes deserving ATs in NJ for demonstrating a long-term commitment to the profession, through public awareness, promotion and education about the athletic trainer's role in their local communities. The nominee must have also made progressive and substantial improvements to his/her athletic training program, provide extraordinary service to local community and have attended the ATSNJ annual conference and business meeting in the last 5 years
Leeann Pearce, ATC, of Monmouth Regional High School, has been selected as a recipient of the 2019 ATSNJ Loyalty and Commitment Award.
Leeann began her career at Monmouth Regional in 1986. The school didn't even have an athletic training room at the time, and she would treat and tape athletes on the bleachers in the gym. She eventually moved into a real athletic training room, and along the way, created athletic medicine related policies, established ties with the school nurse, and added several other important aspects for the benefit of the student-athletes at her school.
Leeann was involved with the Hurricane Sandy relief efforts; she has promoted the profession of Athletic Training to students at her school and at Manasquan High School, and has worked with local EMT's on spine boarding and helmet removal.
She is a certified member of the ATs Care program, which benefits athletic trainers who are dealing with personal and professional tragedies, and she has been a long- standing member of the ATSNJ Secondary Schools committee, and has been a frequent speaker at the Society's student aid workshops. ATSNJ President Christina Emrich had this to say: "Leeann is a great example of what this award is all about. We are proud of her contributions and dedication to her student-athletes and community."
ATSNJ Loyalty and Commitment Award - Karen Karosy, ATC
Our second Loyalty and Commitment Award recipient is Karen Karosy of Valley Hospital/ Ramapo- Indian Hills High School.
Karen has served in the secondary school / hospital based clinic setting for close to 30 years. She has also spent several years at the collegiate level. Karen has volunteered for such entities as the NYC marathon, and many local recreation events and runs. She has provided in-services to local EMS squads on athletic injuries and concussions, and has promoted the profession of Athletic training to parents at local Back to School nights. Karen also created Emergency Action Plans for local recreational fields, and was instrumental in placing AEDs at these local sites. Karen arrived at Indian Hills high School and was initially working out of a closet, with no phone or equipment. By her 5th year, she had a beautiful new room, two phones, whirlpool, and treatment tables. Perseverance does pay off! She also serves as a preceptor for William Paterson's Athletic Training Education Program, and has served as a BOC examiner back in the day when the exam wasn't done on a computer. ATSNJ President, Christina Emrich has this to say: Karen is another great example of what this award is all about. We are proud of her dedication to her student-athletes and all ages of athletes in her community making sure they have access to an emergency action plan and AEDs."
Victor (Vito) D. Recine Memorial Scholarship - KyAsia Mays
The 2019 Vito Recine High School Scholarship recipient is KyAsia Mays from Hillside High School. KyAsia was nominated by her athletic trainer, Mr. James Boyle. He has this to say about her. "KyAsia will soon be missed at Hillside High school. She is tenacious and loves to be challenged. She has a true passion for both athletic training and sports." Sounds like a true athletic trainer. KyAsia, wrote on her application, "Once I joined the athletic training club at Hillside High School and observed firsthand the work and the dedication of the Head Athletic Trainer, I found my passion. Not only does athletic training satisfy my need to be involved with sports, but it also cultivates my skill and knowledge in the medical field." KyAsia's intention is to attend a CAATE accredited Athletic Training Education Program.
Richard Malacrea Scholarship - Juliana Romero, Kean University
The Richard Malacrea Scholarship is named after the Founding Father of ATSNJ, NATA Hall of Fame member and author of the Athletic Training Practice Act. He served as the longtime Head Athletic Trainer at Princeton University. The 2019 ATSNJ Richard Malacrea Scholarship recipient is Juliana Romero form Kean University. Juliana's program director, Ray DiVirgilio, describes her as passionate, diligent, and very organized. At this point, she has posted a GPA of 3.66, so possessing those traits has served her well as a student. She has also been on the Dean's List every semester of her academic career, which also underscores the importance of those traits.
Juliana has been very active outside of the classroom. She has volunteered with the Community Food Bank, with Special Olympics in Costa Rica, and has volunteered at Kean University's community service functions. She has presented posters at the EATA and NATA Annual Meetings and is a member of several honor societies.
Jack Weakley District 2 Scholarship - Morgann Duncan, William Paterson University
The Jack Weakley District 2 Scholarship is named for an individual who is a champion of Athletic Training on a national level, and a true friend to Athletic Trainers in the State of New Jersey. The 2019 NATA District 2 Jack Weakley Scholarship recipient is Morgann Duncan of William Paterson University. Morgann entered the University as an Honors Student and has proven herself by being a Dean's List student every semester that she has been in school. Morgann has been very active in the Athletic Training Club, including spearheading a club trip to Florida in order to visit various athletic trainers working in various settings. She has also been involved in such club events as a breast cancer awareness project and a student NPI contest. Morgann has also been a volunteer for the ATSNJ Fun Run, the NJ Special Olympics, and Habitat for Humanity. Morgann intends to continue her volunteer service when she graduates, and we truly look forward to that.