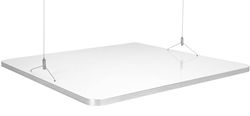 The Straton has exceeded our expectations and we are thrilled to make it available in North America
LOS ANGELES (PRWEB) September 25, 2020
ATI North America is pleased to announce the launch of its newest coral-optimized LED light, the Straton. Hobbyists waited eagerly the past couple months for the official product drop and had the opportunity to pre-order starting on September 17th. Product will begin shipping to end users on October 1st.
"It has finally arrived," said Greg Morgan, North American Distributor for ATI. "The Straton has exceeded our expectations and we are thrilled to make it available in North America."
Featuring seven independent color channels and three independently controllable sections, the ATI Straton is the newest reef aquarium light fixture. The modernized and sleek profile of the Straton is unparalleled on the market today. With brand new programmable features, hobbyists can now create a fully customizable program using built-in control software. The ATI Straton features 153 LEDs along with a maximum of 230 watts, a powerful new way to showcase coral and aquarium life for all their glory.
With a built-in proprietary diffuser that blends individual LED lights, the ATI Straton virtually eliminates color separation. A large output area blankets the entire tank with a consistent, uniform output for optimal coral growth and display. Additionally, the light emulates ATI's time-tested and proven results from T5 lighting. As a result, fewer shadows and hot spots are visible compared to LED lighting from other leading brands.
With a larger and superior light source, the ATI Straton is a superior upgrade to other LED light fixtures. With the Straton, light radiates to corals from all sides and more angles. In contrast, corals are often subjected to light from a single direction when using competing products. For more details about the ATI Straton, visit: https://www.atinorthamerica.com/lighting/straton/
About ATI North America
ATI North America is home to the #1 selling reef specialty T5 bulb line. Well known for their T5 bulbs, they have managed to stay at the forefront of development and technology since 2000. ATI T5 bulbs provide improved coral health and growth in nearly any combination of bulb colors.
In addition to an extensive line of lighting to suit the needs of your tank's ecosystem, ATI's wide range of products includes ATI Essentials Pro, ATI Elements, ATI Nutrition, ATI's Dosing Pump, and a variety of lighting fixtures. Let your reef thrive! ATI North America is trusted and used at every level of the aquarium industry; manufacturers, corals farmers, shop owners and everyday hobbyists.