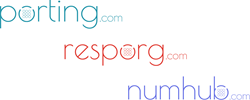 BEND, Ore. (PRWEB) October 10, 2018
Mark Bilton-Smith, ATL Communications President/COO, announced the ATL rebrand on October 10th, 2018 at the Somos Toll-Free User Summit in Las Vegas, NV. Mark said, "ATL Communications, with 25 years of brand equity and authority in the U.S. Toll-Free Number industry as the first independent RespOrg, is rebranding. Over the last two years, we have prepared ourselves to become a next-generation business capable of anything we set our minds to. As the saying goes, 'a comfort zone is a beautiful place to be, but nothing grows there.' Why rebrand? We simply chose to step out of our comfort zone and commit ourselves to our newly agreed-upon core values. You can find our core values, along with the supported products and services offered, on each of our websites: RespOrg.com, Porting.com, and Numhub.com. Our company vision 'Unified Global Number Management' is a lofty one, but it is represented by one of our core values: 'Shoot for the Moon'. For over 25 years, we have demonstrated our ability to create value in our toll-free number management offering and, in only two short years, we now challenge ourselves to fuel this fire and deliver extraordinary outcomes to both the toll-free number and local number industries, first nationally, then globally as represented in our strategically chosen brands we introduce to you today."
In addition to Mark Bilton-Smith's comments, ATL Communications Chief Marketing Officer, Jon Wolf, added, "Rebranding is a rewarding process that can breathe new life into a business. At the exponential rate that our company is growing, alignment and focus are at the forefront of our plans to scale rapidly. Through brand diversification, and the nesting of specific products under their respective brands, we are better positioned to segment the market and gain market share while maintaining our brand equity and industry authority."
The three new brands include: Porting.com, Numhub.com, and RespOrg.com. Each brand is representative of the products and services offered:
Porting.com offers a suite of local number porting platforms to meet every business use case. From CSR/LSR to SV activation and every step in between, Porting.com features full service, end-to-end solutions for local number porting, CSR/LSR, LSMS, and local number ownership lookup. With the most technologically-advanced, user-friendly, feature-rich local number porting SOA on the market, PortingPro, Porting.com is the leader of LNP process automation.
Numhub.com, with access to the largest inventories of toll-free and local phone numbers, redefines toll-free and local number search and reserve. Through the simplistic styling boasting ease of use for consumers, Numhub.com allows users to search for their ideal vanity, shared-use, local, or toll-free number with options to lease, transfer, park, and protect. Numhub.com plans to expand internationally, as well as offer 3rd party listings, creating a global marketplace for numbering assets.
RespOrg.com specializes in toll-free number management, disaster recovery, and least cost routing through their intuitive platforms: ATLAS Pro and LCR-Pro. Intuitively designed for businesses of all sizes, RespOrg.com offers enhanced control over numbering assets, cost-savings through automated cost-optimal routing template creation, and carrier diversity for disaster recovery scenarios. RespOrg.com aims to protect business's toll-free traffic and numbering assets while providing world-class customer support and the unification of the telecommunications industry against telephony fraud.
About ATL Communications:
ATL Communications is America and Canada's first and largest independent, carrier-neutral Responsible Organization (RespOrg), as well as the most technologically-advanced Service Bureau, managing millions of toll-free and local numbers. For over 25 years, telephone companies, wireline and wireless carriers, VoIP service providers, call centers, and enterprise clients have trusted ATL with the management and maintenance of their telephone numbers and essential carrier services. Offering products for Local Number Porting, Least Cost Routing, Disaster Recovery, Toll-Free Number Search & Reserve, Centralized CSR/LSR, Number Lookup Tools, and a Toll-Free Number Management Portal, ATL strives to bring automation, efficiency, productivity, cost savings, and a reduction of complexities to all businesses who seek or currently control their numbering assets.