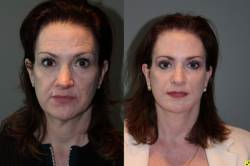 My KalosLift allows patients to much more effectively and extensively address aging signs in both the mid and lower face in a single procedure, says Dr. Stong
Atlanta, GA (PRWEB) May 18, 2017
Dr. Benjamin Stong of Kalos Facial Plastic Surgery, LLC in Atlanta, Georgia proudly announces the KalosLift, the most advanced facelift available anywhere. Dr. Stong, dual board certified and a distinguished leader in the field of facial plastic surgery, developed this more advanced, revolutionary, extended deep plane facelift technique. It specifically addresses the deeper superficial musculoaponeurotic system (or SMAS) in the face and neck because he wasn't fully satisfied with traditional deep plane facelift results and is always looking to improve existing techniques. The KalosLift improves upon the short comings of all other traditional facelift techniques, and offers a more natural appearance and longer lasting results.
"I am proud to offer Atlanta patients, and anyone else for that matter, what I consider to be the Gold Standard in advanced facelift techniques," says Dr. Stong. "My KalosLift allows patients to much more effectively and extensively address aging signs in both the mid and lower face in a single procedure. Patients love it because it helps them look 15 years younger or even more."
The KalosLift gives patients a number of significant and valued benefits for their facial plastic surgery investment. Therefore for patients with aging facial features such as sagging jowls, neck tissue and nasolabial folds, the KalosLift is a far superior solution.
The KalosLift not only lifts the neck and lower cheek and jawline but it also repositions the upper cheek or midface region. By comprehensively elevating the skin and SMAS together, patients gain effective yet softer, more natural results. Compared to other deep plane facelift techniques, the KalosLift is able to release more of the midface region, resulting is a smoother nasolabial fold. The KalosLift also elevates the platysma muscle in the neck off the deeper neck structures and repositions the platysma with the composite flap resulting in a tighter smoother neck contour than a traditional deep plane facelift.
Dr. Stong is known for his elite talent and pioneered techniques in facial plastic surgery. For example, the KalosLift uses smaller, more inconspicuous incisions and benefits both men and women beginning in their 40's due to its unique ability to more comprehensively rejuvenate the cheeks and neck than a traditional deep plane facelift.
About Dr. Benjamin Stong and Kalos Facial Plastic Surgery, LLC:
Owner and facial plastic surgeon, Dr. Benjamin Stong is dual board certified in Head and Neck Surgery and Facial Plastic and Reconstructive Surgery. He completed his fellowship under one of the most nationally renowned plastic surgeons, Dr. Andrew Jacono in New York. He has combined such a reputable level of training with his own proven experience and talent to bring patients of Atlanta outstanding results in plastic surgery. Kalos Facial Plastic and Reconstructive Surgery specializes in providing the most advanced techniques in facial plastic surgery and other cosmetic services.
If you would like to get more information about the KalosLift offered by Kalos Facial Plastic Surgery, LLC, please call their Atlanta office at (404) 963-6665 or visit their website at http://www.kalos-plasticsurgery.com.
Prepared by Find Local Company