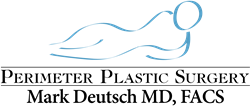 May is when people start hanging out at the pool and going to the beach, and when they do, they expose themselves to the sun's ultraviolet (UV) rays. This can put them at risk for developing skin cancer if they don't protect their skin
Atlanta, GA (PRWEB) May 02, 2017
In recognition that May is Skin Cancer Awareness Month, Atlanta-based Perimeter Plastic Surgery is offering some timely specials on skincare products. EltaMD UV Clear Broad-Spectrum SPF 46, voted best facial sunscreen on the market in 2017 by InStyle magazine, and EltaMD UV Sport
Broad-Spectrum SPF 50 (for the body), are each available from Perimeter Plastic Surgery for 20 percent off through May 31.
"May is when people start hanging out at the pool and going to the beach, and when they do, they expose themselves to the sun's ultraviolet (UV) rays. This can put them at risk for developing skin cancer if they don't protect their skin," warns Mark Deutsch, MD, a board-certified plastic surgeon and medical director of Perimeter Plastic Surgery.
He recommends EltaMD sunscreens to his patients because they help prevent sunburn and decrease the risk of skin cancer and early skin aging caused by the sun, and are formulated for all skin types. "The EltaMD sunscreens have been dermatologically-tested and are medical-grade products, providing both UVA and UVB protection, which puts them in the category of broad-spectrum sunscreens," notes Dr. Deutsch. The quality of both EltaMD sunscreens are so high that they are recommended by The Skin Cancer Foundation.
In addition to the special on EltaMD sunscreens, Perimeter Plastic Surgery is also offering a 20 percent discount on Obagi medical skincare products through May 31. "These products are the perfect choice if your skin is suffering from sun damage, as they not only work to reverse existing signs of damage but also protect your skin and prevent future damage," says Dr. Deutsch.
Of course, May 14 is Mother's Day, and in honor of this holiday, Perimeter Plastic Surgery is offering free shipping on any skincare products purchased for Mother's Day gifts. "Skincare products can be the perfect way to show appreciation to your mother, grandmother, wife, sister or other special woman in your life," Dr. Deutsch says. "But don't delay. Mother's Day is fast approaching. If your gift is going to someone who lives in another part of the country, you need to get your order in now so we can get the products shipped in time to arrive before Mother's Day."
For further information about Perimeter Plastic Surgery's May 2017 specials on EltaMD Sunscreen and Obagi skincare products, please visit https://www.perimeterplasticsurgery.com/specials/, or call Perimeter Plastic Surgery at 404-255-0886.
About Perimeter Plastic Surgery:
Dr. Mark Deutsch is the founder of Perimeter Plastic Surgery and a top plastic surgeon in Atlanta. He is board certified by the American Board of Plastic Surgery, and performs a variety of cosmetic and reconstructive surgeries. In addition to his work in the United States, he travels annually to South America to perform volunteer procedures. For more information about Dr. Deutsch and Perimeter Plastic Surgery, please visit https://perimeterplasticsurgery.com.