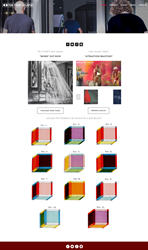 Art has always been and will be a means of catharsis, a cleansing via soulful expression. Unabashedly, 'Empty' is that for me. It's a song about brokenness and the necessity of letting go, explains band member Mark Milam
ATLANTA (PRWEB) October 20, 2020
Have you ever wished you could give away a memory? Which ones would you keep? Which would you release forever? Atlanta-based alternative rock band Ten Story Relapse tackles that idea in perhaps their deepest and most ambitious indie-rock video effort to date, "Empty."
The video concept, featuring band members John Douglas, Scott Patton (also Sugarland's lead guitar player and band leader) and Mark Milam, serves as a mini-movie, prequel to a prior fan favorite, "No Resistance." Melissa Hansen resurrects her dreamy, tough-yet-damselesque role. Bruce Bennett moves from behind the mixing board onto the screen as the song's central character, seeking to unburden himself from his memories. The rest of the cast reprises familiar roles. The video was directed by long time Ten Story Relapse collaborator Austin Taylor.
"Art has always been and will be a means of catharsis, a cleansing via soulful expression. Unabashedly, 'Empty' is that for me. It's a song about brokenness and the necessity of letting go," explains band member Mark Milam
The link to the indie rock / alternative music video can be found here: https://youtu.be/KUBjlOWhf2Q
More about Ten Story Relapse:
Ten Story Relapse is an indie-rock band from Atlanta, GA. The founding members, musicians John Douglas and Mark Milam, started the band in 2003 after becoming re-acquainted long after their college days where they both played in separate bands. Ten Story Relapse is comprised of the talented trio Mark Milam, John Douglas and Scott Patton. Ten Story Relapse has performed with national touring acts, including Big Head Todd, Soul Asylum, the Lemonheads, Dexter Freebish and Shawn Mullins.
Please visit http://www.tenstoryrelapse.band or http://www.facebook.com/tenstoryrelapse for more information on the band's music and any upcoming appearances. For press inquiries, contact tenstoryrelapse@gmail.com