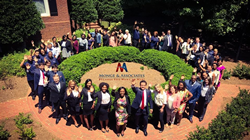 "As we continue to provide excellent service and experiences to our clients, we are excited to be a part of this organization to continue to network and learn from other leading trail lawyers."
ATLANTA (PRWEB) February 25, 2020
Monge and Associates, a headquartered out of Atlanta, announced their member to the invitation only professional organization: The National Trial Lawyer: Top 100.
Scott Monge, Founder and CEO, said "My firm is honored to be invited to join the ranks of this elite organization of the best of the best in the law industry."
The Monge & Associates team prides themselves on excellence and setting high standards and expectations when it comes to their services, standards, and skills. Monge states "Being recognized for our service, standards, and qualifications means the world to my team and I."
Selection for this organization is based on a thorough multi-phase process including peer nominations and third party research. Membership invitation are given to only a select few of the most qualified attorneys from each state.
In closing Monge states "As we continue to provide excellent service and experiences to our clients, we are excited to be a part of this organization to continue to network and learn from other leading trail lawyers."
If you would like to learn more about Monge & Associates and their qualifications please visit their website: http://www.becauseyouwanttowin.com.
About Monge & Associates: Monge & Associates, "The Hammer," is a national recognized personal injury law firm that makes good things happen for other people by helping innocent injury victims hurt through the fault of another person. Primary practice areas include helping victims of drunk drivers, surgery cases, catastrophic injuries, car wrecks, truck collisions, motorcycle accidents, negligent security injuries, injuries happening at businesses, worker's compensation case and victims hurt by dangerous products. For more information, please visit http://www.becauseyouwanttowin.com