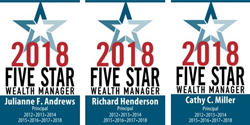 "The recognition underscores our deep commitment to providing clients with the highest quality suite of financial services available delivered with unparalleled personalized advice and guidance to live the life they envision."
ATLANTA (PRWEB) December 04, 2018
Atlanta Financial Associates, an award-winning, independent financial advisory firm, today announced that all three partners — Cathy Miller, Julie Andrews and Rick Henderson — have individually received the 2018 Five Star Wealth Manager award* for the greater Atlanta area.
According to Five Star Professional, the Five Star Wealth Manager award is the largest and most widely published wealth manager program in the financial services industry. Award criteria is based on a rigorous, multifaceted research methodology, incorporating input from peers and firm leaders, client retention rates, industry experience and a thorough regulatory history review.
"We are each incredibly honored to receive the Five Star Wealth Manager award once again this year," said Rick Henderson, CPA, CFP®, AIF®. "The recognition underscores our deep commitment to providing clients with the highest quality suite of financial services available delivered with unparalleled personalized advice and guidance to live the life they envision."
As an award-winning financial services advisory firm with more than twenty-five years in business, Atlanta Financial's success is built on establishing trusting relationships, a commitment to clients' success, and a depth of expertise across the financial industry. Through many years of market cycles, shifts and turns, the firm has remained a leader in wealth management solutions.
Today, Atlanta Financial is "Making Life's Journey Richer" for clients by focusing on their individual and unique goals, a practice credited with earning each partner the 2018 Five Star Wealth Manager award.
*Based on 10 objective eligibility and evaluation criteria, including a minimum of 5 years as an active credentialed financial professional, favorable regulatory and complaint history, accepts new clients, client retention rates, client assets administered, education, and professional designations. In 2017, 2,378 Atlanta wealth managers were considered for the award; 301 (13 percent of candidates) were named 2017 Five Star Wealth Managers. These awards are not indicative of the wealth manager's future performance. Your experiences may vary.
ABOUT ATLANTA FINANCIAL
Since 1992, people have been turning to the advisors at Atlanta Financial Associates to help them build a wealth management plan that reflects their vision and can stand the test of time. Our ability not only to meet this expectation, but to exceed it, is based in large part on the commitment we make to every one of our relationships. We take the time to understand your full life picture — your values and perspectives, as well as where you are now and where you want to go. Adding to this is the fact that we have access to comprehensive resources, leading technology, and innovative tools. For more information about how we are "Making Life's Journey Richer," please visit http://www.AtlantaFinancial.com.
Atlanta Financial Associates' address is 5901-B Peachtree-Dunwoody Road, Suite 275, Atlanta, GA 30328.
Advisory services offered by Atlanta Financial Associates, Inc.