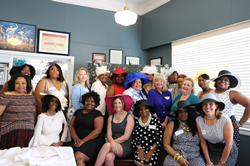 "As an organization, we believe that change can only be achieved through collaborative efforts. We are excited to launch this event, which we hope will foster relationships with people who share our vision of a world where no young person is homeless."- Carole Cheatam, WGC Atlanta Chapter President
ATLANTA (PRWEB) February 28, 2023
The Women of Global Change (WGC) Atlanta, Georgia Chapter has announced the launch of its Spring Gathering aimed at helping homeless teens in the state. The organization is actively seeking collaborations with other local organizations and individuals to make a lasting impact on their communities. Carole Cheatam is the Atlanta Chapter President and has brought together women throughout the state to raise awareness and funds to help teens and children.
Homelessness among teens has become a growing problem in Georgia, with many young people facing a lack of basic needs such as shelter, food, and clothing. The WGC Atlanta Chapter has taken the initiative to address this issue by organizing an event that will provide a platform for local organizations to network and collaborate toward a common goal of alleviating youth homelessness in the state.
The event will be held online, providing an opportunity for organizations and individuals to make introductions and exchange ideas. It will be an excellent opportunity for organizations to showcase their work, highlight their strengths, and identify areas where they need support. Attendees will also be able to learn about the various initiatives and programs available to help homeless teens in the state.
In a statement released by the WGC Atlanta Chapter President, Carole Cheatam, the organization emphasized the importance of collaborative efforts in addressing the issue of youth homelessness. "As an organization, we believe that change can only be achieved through collaborative efforts. We are excited to launch this event, which we hope will foster relationships with people who share our vision of a world where no young person is homeless."
In the past, the WGC Atlanta Chapter has served and collaborated with Nicolas House, Street Grace, and Village of Hope. They have worked with women's and men's shelters throughout the state. Previously, they have refurbished 6 homes to help women transition out of sex trafficking, collected school supplies for children, donated toys for holidays and have done dress clothing pop-ups for job interviews. Wherever there is a need in the Atlanta community, WGC has shown up and helped.
The WGC Atlanta Chapter is calling on all organizations that are actively working towards making a positive impact on their community to attend the event and participate in the discussions. They encourage all attendees to come with an open mind and a willingness to collaborate toward achieving a common goal.
The event is scheduled to take place in the coming weeks, connect with Carole Cheatam, to get on the list. All interested parties are encouraged to sign up and be a part of this impactful initiative. The WGC Atlanta Chapter hopes that this event will be the first step in a series of collaborations aimed at making a lasting impact on their communities and improving the lives of homeless teens in Georgia. To connect with Carole please go to: http://www.womenofglobalchange.com/atlanta
Women of Global Change is a non-profit organization that has received 5 Presidential Service Awards, as well as, has been recognized by governments internationally for the work that they have done to bring people together to help others. The organization is continuing to grow and bring leaders together from around the world, as they go on an Adventure Summit to Uganda and a Safari in Kenya. They will help over 150 women and children in the local communities, meet top government officials and experience the countryside. There is still time to join them on this adventure. To learn more go to: http://www.womenofglobalchange.com/summit
Dr. Dame Shellie Hunt, Founder of WGC, states, "Working with Chapter Presidents like Carole Cheatam is an absolute honor, I see the difference that they make in the world. The WGC Atlanta Chapter is a model of service that demonstrates the power of taking action as a community."