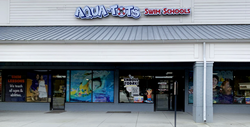 Our facility is dedicated to year-round swim lessons so that families in the East Cobb region will be able to enjoy many more happy memories around the water. - Jesse Rhodenbaugh
MESA, Ariz. (PRWEB) November 22, 2021
Aqua-Tots Swim Schools has announced the opening of its 122nd worldwide location. Located off Johnson Ferry Road in the Market Plaza Shopping Center near the intersection of Johnson Ferry Road and Roswell Road, Aqua-Tots East Cobb officially opened their doors on Monday, November 22, 2021.
The brand-new 5,530 sq. foot East Cobb swim school is the fifth Aqua-Tots location in Atlanta and seventh in Georgia for franchise owners, Andrew George, Jesse Rhodenbaugh and Tommy Fisher, who also own schools in Alpharetta, Briarcliff, Roswell and Westside Village. Aqua-Tots East Cobb is ready to welcome families in Cobb County, Atlanta and Marietta.
"With a community full of families and small children, we are eager to provide a safe, fun place for them to learn essential water safety skills," said Franchise Owner Jesse Rhodenbaugh. "Learning to swim is imperative for all children. The smiles we see from students as they accomplish their goals and the peace of mind parents receive are a couple of reasons we love being a part of Aqua-Tots."
According to the National Institutes of Health, "Participation in formal swim lessons can reduce the risk of drowning by 88% among children ages one to four years old." That's an encouraging reality since the Centers for Disease Control and Prevention reports that drowning is the leading cause of unintentional, injury-related death among children in the same age group.
"After a season full of vacations and swimming in neighborhood pools, we are motivated more than ever to open our swim school," said Rhodenbaugh. "Our facility is dedicated to year-round swim lessons so that families in the East Cobb region will be able to enjoy many more happy memories around the water."
Aqua-Tots East Cobb is open Monday through Saturday and is offering a free additional swim lesson each week for the first month (value of $94) for those who enroll by December 31. The Aqua-Tots Swim Journey is comprised of eight levels of comprehensive curriculum that is tried, true and trusted all over the world. Each level is designed to build upon the next, taking children on a journey toward becoming a safe and confident swimmer for life. Children can participate in small class sizes ranging from group to private lessons to help ensure a safe environment to learn to swim. Aqua-Tots East Cobb also features the Special Needs Aquatic Program (S.N.A.P.), which tailors lessons to each child's special needs and abilities, as well as Fast Track and adult swim lessons.
Aqua-Tots East Cobb is now hiring front desk staff and swim instructors. Those interested can fill out an application online at aqua-tots.com/employment or email their resume to eastcobbgm@aqua-tots.com To learn more or to register for swim lessons, please visit aqua-tots.com/east-cobb or call (404) 566-6875.
About Aqua-Tots Swim Schools
Aqua-Tots Swim Schools serves over 120 communities worldwide, offering dedicated, year-round, indoor swim instruction, community outreach and drowning prevention education to children of all abilities from four months to 12 years old. As the world's largest swim school franchise that is continuing to grow with 90 locations in development, Aqua-Tots' hand-selected instructors are passionate about teaching children how to remain safer in and around the water. The company uses tried and true curriculum, more than 30 years in the making and trusted worldwide to teach 4 million swim lessons annually. To learn more, visit aqua-tots.com or follow Aqua-Tots on Facebook and Instagram.