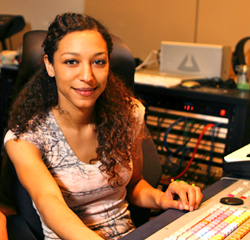 I chose SAE Atlanta because of its affordability, excellent curriculum, and convenient location. I immediately fell in love with the atmosphere, studio facilities, and vibe from the instructors.
Atlanta, GA (PRWEB) January 28, 2015
Daniela Rivera, a 2009 Audio Technology Program graduate of SAE Institute's Atlanta campus, worked as an assistant engineer on "Black Widow", which is featured on Iggy Azalea's album "The New Classic" (2015 Grammy nominee – Best Rap Album) and the tracks "So High" and True Colors", which are featured on Wiz Khalifa's album "Blacc Hollywood" (2015 Grammy nominee – Best Rap Album).
"My 'sound' is still evolving and shaping, but it's a combination of what sounds correct without losing what feels right," says Rivera, who works as an assistant to multiple Grammy-winning engineer/mixer Phil Tan at Tan's studio Ninja Beat Club in Atlanta. "I don't want to the tracks to sound manufactured by editing too much, or fixing every mistake. I like a beat that pumps, but is controlled in the mix, with driving rhythms, warm grooves, melodies that build, and a bit of dirt that's cleanly heard."
Rivera was born in Frankfurt, Germany (her father was in the Army and stationed in Giessen, Germany). Her father was later stationed at Fort Bragg, NC, and she grew up in Fayetteville. Through a combination of self-teaching and private lessons, Rivera learned and mastered the piano, playing in her church youth choir.
A 2002 graduate of Douglas Byrd High School in Fayetteville, Rivera decided to seek a formal education in audio engineering and music production. After researching some of the top schools in the country, Rivera decided to enroll at SAE Institute's Atlanta campus in 2009.
"SAE was the winner hands down because of its affordability, excellent curriculum, and convenient location," says Rivera. "I took a tour of SAE Atlanta in the summer of 2008 and immediately fell in love with the atmosphere, studio facilities, and vibe from the instructors."
After graduating from SAE in 2010, the school's career services team guided Rivera to an internship at Silent Sound Studios, Atlanta, GA. In 2011, she was hired by Tan at Ninja Beat Club, and along with her contributions to 2015 Grammy-nominated projects, she's also worked on tracks by Michael Jackson, Mariah Carey, and Rihanna (including songs on "Unapologetic," which won the 2014 Grammy for Best Urban Contemporary Album).
Rivera recommends that current SAE students who wish to pursue careers in studio recording take full advantage of everything that the school has to offer.
"Students should book as many lab and studio hours as possible and really tune into what the guest industry professionals share with you when they visit your campus," says Rivera, who ultimately aims to be a producer. "For new grads, my advice is to be prepared to work hard in order to earn your spot. Music engineering and production is a career, and like any other career you wish to be successful in, you have to put your time before you start gaining momentum."
About SAE
SAE Institute provides aspiring creative media professionals with a foundation of practical theory and valuable hands-on training in their chosen areas of concentration. Under the guidance of our faculty, which is comprised of working industry professionals, students gain the essential experience they need for entry-level jobs in the entertainment business. Our students are supported in their job searches by SAE's international network of alumni, many of whom are leaders in the music, film, game arts, and live performance arenas. We offer programs in audio technology across our seven US campuses, along with a music business program at select locations, all fully accredited and focused on preparing students for employment when they graduate. Bachelor's Degree programs in Animation, Audio, Film, Game Art & Graphic Design are available at the two locations of Ex'pression College, which is owned and operated by SAE Institute Group, Inc. SAE Institute Group, Inc. is a part of Navitas LTD. Learn more at USA.sae.edu.
About Navitas
Navitas is an Australian global education leader, providing pre-university and university programs, English language courses, migrant education and settlement services, creative media education, student recruitment, professional development, and corporate training services to more than 80,000 students across a network of over 100 colleges and campuses in 27 countries. Learn more at Navitas.com.