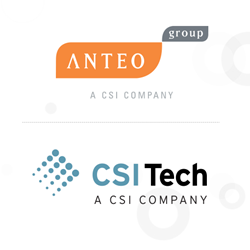 "By operating under one brand with a shared vision, we're taking the best qualities of Anteo Group and CSI Tech and maximizing their potential for our clients and consultants." - CSI Tech President Andrew Cihlar
ATLANTA (PRWEB) February 14, 2019
Atlanta-based IT staffing firm Anteo Group, part of The CSI Companies, today announced its official transition to a new corporate brand identity: CSI Tech.
From its Midtown Atlanta office, Anteo Group provides technology consulting and staffing services nationwide, with specialties in Java, enterprise resource planning (ERP), and business intelligence. In 2013, it was acquired by The CSI Companies but continued to operate under the Anteo Group name, while carrying "A CSI Company" tagline in all of its branding.
As of Feb. 14, 2019, Anteo Group fully transitions into its new corporate brand identity: CSI Tech. The transition comes just one month after CSI Tech revealed its refreshed branding, complete with a new logo and color scheme. Aside from changing its name, Anteo Group will fully adopt CSI Tech's new branding, including its new logo, colors, website, and marketing collateral.
Anteo Group, now CSI Tech, is led by Andrew Cihlar, an industry veteran with more than 10 years of executive-level experience in staffing and recruiting. Prior to becoming CSI Tech's president in 2014, Andrew led The CSI Companies' largest and most profitable segments of business as Vice President of Business Development.
"Anteo Group's transition to CSI Tech results in a stronger, more unified team of experienced IT staffing professionals," said Andrew Cihlar, president of CSI Tech. "By operating under one brand with a shared vision, we're taking the best qualities of Anteo Group and CSI Tech and maximizing their potential for our clients and consultants."
Anteo Group has earned notable recognitions since being founded in 2002. It was recognized as one of the "Atlanta's Best Places to Work" by the Atlanta Business Chronicle and has ranked among Entrepreneur Magazine's Hot 100 and the Inc. 5000.
Since 2013, CSI Tech has earned ClearlyRated's (formerly Inavero) Best of Staffing Awards for talent and client satisfaction. In 2018, CSI Tech earned the coveted Diamond Award for winning the Best of Staffing Client Award for at least 5 consecutive years.
To learn more about CSI Tech and its specialty recruiting services, visit TheCSICompanies.com/Tech.
About CSI Tech
CSI Tech is a division of The CSI Companies specializing in nationwide IT staffing and recruiting services from its Jack-sonville, Atlanta, Tampa, and Nashville offices. CSI Tech is a part of Recruit Global Staffing, active in Asia, Europe, North America and Oceania. Recruit Global Staffing is a leading global HR service provider, part of Recruit Holdings Co., Ltd. Headquartered in Jacksonville, Fla., The CSI Companies provides national staffing solutions by placing top talent in the technology, financial, accounting, healthcare, and other professional industries across the country. To learn more about The CSI Companies, visit TheCSICompanies.com.