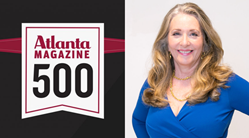 "You'll notice that each sector also includes a list of Legends. These honorees are the indisputable forces who've shaped our city. It is for the acknowledged pioneers in their respective fields, whose names really need no introduction." - Betsy Riley
ATLANTA (PRWEB) September 13, 2019
For the last several years Catherine Downey has been working alongside other Atlanta leaders to bolster CATMEDIA's profile while also finding opportunities to give back to the community. Which is why it comes as no surprise that she's been listed by Atlanta Magazine as one of the city's 500 Most Powerful Leaders, for Marketing and Public Relations in the Professionals sector. With CATMEDIA's broad project history and Downey's effective leadership style, the path to success for CATMEDIA has been paved with many successes.
Downey has been recognized through multiple awards and honors as a leader who has made significant strides in their careers, are making a difference in their communities, blazing the trail for others, and leaving an indelible mark on the Atlanta business community. She has been recognized as one of the Atlanta Business Chronicle's Women Who Mean Business, and the 2016 Small Business Person of the Year.
Last year Downey was accepted in to the Leadership Atlanta Class of 2019: a nine-month, executive-level series, in which 85 established leaders are chosen each year to represent a broad cross-section of metro Atlanta. The goal of Leadership Atlanta is to work together as a network of established leaders to improve and strengthen the City of Atlanta long-term.
CATMEDIA is recognized as one of the nation's "Best and Brightest Companies to Work For" for three years in a row, and is recognized as a leader among government services contractors. CATMEDIA has twice been named to the Inc. 500 list of the fastest-growing private companies in America and made it into the Top Ten of the Atlanta Business Chronicle's 2015 Pacesetter Awards for Atlanta's 100 fastest-growing private companies.
CATMEDIA is a full service creative and marketing agency that has been recognized as a leader among government services contractors. Fully staffed with true innovators, the firm is patent-pending on several trainings and communications technologies.