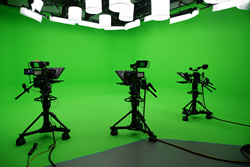 First Brainstorm 4K Live Multi-Camera Virtual Set Installation in Atlanta
ALPHARETTA, Ga. (PRWEB) October 25, 2018
Atlanta North Studios announces the launch of Stage 8, a new 180-degree Procyc green screen stage equipped with DMX controlled light grid. The stage can be used as a stand-alone rental studio for any production that requires a sound-controlled environment. In addition to the original Stage 7, the studio now has two fully equipped stages that can be setup in just minutes for any small to medium size production.
"Our studios are ideal for producers who want an affordable set of pre-lit stages that allow crews to load in and start filming quickly, saving money by avoiding costly pre-lighting days," says Steve Sanford, CEO. "We've built both studios by listening to the needs of our global and local clients, and our goal is to provide incredible value and convenience offering flat rate pricing on our ready-to-film stages."
The newest addition to Atlanta North Studios is the ability to produce "live" content using the studio's real-time 4K UHD multi-camera virtual studio powered by Brainstorm's InfinitySet and Epic's Unreal Engine.
"We are excited to be the first full-service rentable studio in the Southeast featuring Brainstorm's InfinitySet and 4K UHD multi-camera virtual set technology integrated with Unreal Engine 3D sets," Sanford added. "This will save producers an incredible amount of time and money because we can now build sets in a virtual world. The days of building and storing expensive sets for many applications is over with the implementation of this technology."
Today's 3D virtual set technologies can now create nearly photo realistic scenes that can transport productions anywhere the mind can imagine. From hotel lobbies to outdoor scenes, new ready-to-film sets and environments can be loaded in minutes. Whether a client needs to shoot single camera or multi-camera previz or live to disk, working with real-time 3D sets is a game changer. Starting in November 2018 clients can transmit live events to the web or other TV networks with live 4K UHD streams.
Visit http://www.atlnorthstudios.com or call 770.450.6486 to learn more or schedule a tour.
About Atlanta North Studios
Atlanta North Studios (a 3BG Company http://www.3bgdigital.com) provides high-value state-of-the-art technologies and facilities to the film and TV industry as well as many multinational corporations. Providing two fully equipped sound stages located north of Atlanta, it has hosted multiple reality TV series and a variety of companies ranging from international corporate and faith-based productions to children's animation and e-gaming productions. In addition to studio rental, Atlanta North Studios also provides turnkey services from single camera to full multi-camera live 4K switched productions utilizing virtual set technologies.
###