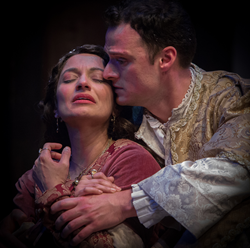 "Over the years we've discovered that when Shakespeare is served neat, or maybe with one ice cube and a water chaser," Watkins is fond of saying, "it's easier to wrap your head around."
ATLANTA (PRWEB) June 02, 2019
While major companies across the U.S. wring their hands about the declining audience for professional theater, a Shakespeare ensemble in the heart of the American South has quietly been working to develop new audiences on their own for the past 34 years. The Atlanta Shakespeare Company in Georgia now plays Shakespearean titles year-round to houses packed with a surprisingly young and diverse audience. Under the guidance of Artistic Director Jeff Watkins, a former street magician and maverick actor-manager from Texas, the company provides one of the most unique theater experiences in the country.
They perform at the Shakespeare Tavern Playhouse, a theatre built to feel like a British pub, in which all the tables and chairs focus toward a large stage reminiscent of the Globe Theatre. A kitchen in the back serves draft beers and cuisine ranging from traditional pub grub to more adventurous seasonal dishes. While an evening show ticket neither requires nor includes dinner and drinks, the experience of eating and drinking in a pub does tend to relax first-time audience members for an evening of Shakespeare's language.
Watkins sees declining audiences nationwide as a reflection of young people's reluctance to passively connect with modern directors and designers, who create visual metaphor in dialogue with Shakespeare's text. "That approach can be wonderful," he allows, "but that's heady stuff. Grad students and theatre people love it. Normal people don't." That's one reason why the company has also adopted a signature performance style called "original practice."
In Shakespeare's time, Watkins reminds us, theater-going was a rowdier and more participatory experience. ASC has adopted multiple elements from the Elizabethans' production approach: performing every play on a bare or sparsely decorated stage, in period costume, with little emphasis on visual spectacle. Productions often cast the same long-term ensemble of actors—some of whom have worked together for nearly two decades--who deliver Shakespeare's text directly to the audience members assembled each night.
Watkins has long considered it his company's mission to create a reference standard for Shakespeare. In his view, an audience member new to Shakespeare needs to understand the play itself first, before he or she can understand and appreciate a particular director's interpretation of the play. "Over the years we've discovered that when Shakespeare is served neat, or maybe with one ice cube and a water chaser," he's fond of saying, "it's easier to wrap your head around."
ASC may be a nonprofit arts organization, but Watkins has relied heavily from the start on earning revenue through ticket sales and education programs rather than the standard reliance on grants and charitable contributions. The company is a lean production machine, routinely presenting over a dozen titles annually and performing all but one week each year to keep their audiences interested. Their schedule stands in stark contrast to that of many mainstream American Shakespeare companies, driven by auteur directors creating productions with high concepts and high budgets. Financial worries and shrinking audience bases have driven most companies to produce only three to six productions per year.
Many of the company's audience members don't initially consider themselves regular theatergoers -- they simply like the Shakespeare Tavern Playhouse. Look out into the house on any given night and you'll see a room where nearly half the audience is in their 30's, or even younger. That makeup is nearly unheard of for any type of live theatre in the South beyond improv comedy.
The company's own website markets the Playhouse as "a place to eat, drink, and nourish the soul"—with the added draw, Watkins privately adds, of audience members only needing to park once for a complete evening of dinner and entertainment in downtown Atlanta. Beyond convenient, however, audiences find the pub setting immediately inviting and disarming. Frequent audience member Ben Apler, a local lawyer who became a dedicated fan of live Shakespeare by watching Tavern shows, thinks there are "initial barriers to entry" found at most high-end Shakespeare festival settings. He applauds ASC for "making Shakespeare more accessible to folks: you don't have to dress up, it's not expensive, it's a casual environment where you can eat or drink, go with a group, and enjoy a great show."
Shakespeare's complete works have certainly proven a gift that keeps giving for this company and its perennially young audience. The company will finish cycling through the Shakespearean canon for the second time with Henry VIII in June 2019 –an impressive feat, considering no other American company has mounted full productions of the entire canon twice. Watkins says he's as surprised as anyone to have discovered a viable market in the American South for a company performing Shakespeare nearly every month of the year. But that market certainly exists. As long as audiences clamor for new "original practice" productions at the Shakespeare Tavern Playhouse week after week, the Atlanta Shakespeare Company will continue creating new Shakespeare audiences in their own unconventional way. -Source Atlanta Shakespeare Company