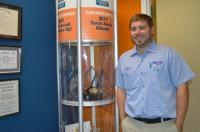 Atlanta, GA (PRWEB) October 31, 2013
Atlanta heating and air company Bardi has added two Heating and air conditioning professionals to its staff: Greg Scarangello and Charles (CJ) Croy. In addition, Bardi announced Adam Bardi's promotion to service manager.
Greg Scarangello joins Bardi as an HVAC technician and apprentice plumber. He is a third-generation residential HVAC specialist who has worked in the industry since 1981. He is an EPA-certified technician and his previous experience includes running his own HVAC company, Scarangello Heating and AC, in the Greater Boston Area from 1999-2013. He currently resides in Acworth, Georgia with his wife, three children and rescue dog Lyndsi.
CJ Croy is Bardi's new Comfort Creator and HVAC installer. He is an EPA 608 Type II certified technician. His previous experience includes Addison Smith Mechanical as a commercial HVAC installer and technician specializing in residential upgrades and repairs. CJ enjoys fishing and the outdoors and, as a true family man, he loves playing with his four children.
Adam Bardi was recently promoted to Service Manager. In this position, he will assist technicians with service calls and also implement best practices to ensure the ultimate experience for Bardi's clients. Adam was previously among Bardi's top service technicians, providing quality service to residents of metro Atlanta for several years. Although Adam enjoyed being a solution provider for all of his clients, he desired to give back to his fellow peers and assist them in providing top notch service by accepting the position of service manager. When Adam isn't working on the business, he is working on his hobby car, an early '90s Alfa Romeo, and spending time with his new wife, Heather.
Bardi Heating and Air is a family-owned HVAC and plumbing company in Atlanta. Founded in 1989 by Alex and Susan Bardi, the company has been providing the Atlanta area with quality HVAC services for almost 25 years. Bardi also offers plumbing repairs and services and is home to an experienced management team as well as an outstanding team of NATE certified technicians, whose number one priority is to keep their customers satisfied by "always, always, always doing the right thing." For more information, please visit bardi.com.