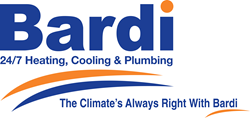 Hopefully these specials will help encourage people to maintain and repair their systems before winter storms occur
ATLANTA, GA (PRWEB) January 06, 2015
Atlanta heating company Bardi Heating, Cooling and Plumbing has announced a variety of specials for the new year, including HVAC and plumbing discounts and extended anniversary savings. Bardi's discounts will be useful for any costly system repairs, especially with Georgia's predicted severe winter weather.
For a limited time only, residential customers can enjoy $50 off any heating or plumbing service totaling $150 or more or a free diagnostic with any furnace or plumbing repair, a $68 value. Residents can also take advantage of a $100 credit rebate when replacing an old toilet with a high-efficiency toilet, which features a heated seat for optimal comfort, built-in bidet, front-and-back washer and slow-close seat.
In addition, Bardi's 25th anniversary savings offered in 2014 will continue into 2015. Customers who join the Friends of Bardi Maintenance Club will receive a 25 percent discount off any HVAC or plumbing repairs on the day of service, up to $125 in savings. Additional benefits are available throughout the year exclusively for Bardi Maintenance Club members.
"It's important to promptly address any heating and air or plumbing issues to avoid costly, large scale repairs or replacements," stated Adam Bardi, residential service manager at Bardi Heating, Cooling & Plumbing. "Hopefully these specials will help encourage people to maintain and repair their systems before winter storms occur."
Some discount restrictions apply, discounts cannot be combined with other offers. Please refer to Bardi's website for details.
About Bardi Heating, Cooling and Plumbing:
Bardi Heating, Cooling and Plumbing is a family-owned HVAC and plumbing company in Atlanta. Founded in 1989 by Alex and Susan Bardi, the company has been providing the Atlanta area with quality HVAC services for over 25 years. Bardi also offers plumbing repairs and services, and is home to an experienced management team as well as an outstanding team of NATE certified technicians, whose number one priority is to keep their customers satisfied by "always, always, always doing the right thing." Bardi provides free electronics pick-up and recycling on all service calls benefiting Nobis Works. For more information about energy efficient HVAC products, visit http://bardi.com or call 770-263-5355.