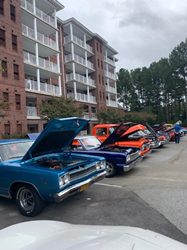 This special event gave us the opportunity to share our campus, and the 'life' of our community -- our wonderful residents.
VIRGINIA BEACH, Va. (PRWEB) October 30, 2019
Lovers of vintage vehicles, classic cuisine, and throwback tunes cruised down memory lane at the Atlantic Shores Classic Car Cruise-in at Atlantic Shores Retirement Community in Virginia Beach, Virginia. Designed to bring the generations together for a day of fun, this unique event also captured national attention, selected as Silver winner for Best Special Event in the National Mature Media Awards competition, a distinguished contest highlighting the best senior living marketing materials and resources for consumers and industry professionals.
Held on Atlantic Shores' beautiful 100-acre campus, October 5, 2019 marked the second year this regional event has been held free of charge for the public. Inspired by the popularity of local antique car shows, the event was created to be a less formal, free-flowing day of activities -- featuring music, themed dining, vintage vehicle displays, contests, and home tours. Designed to take the entire community back in time, and have a fun time doing it, the theme chosen for the inaugural event was: "Atlantic Shores Classic Car Cruise-In - - A Blast from the Past."
Over its first two years, more than 300 guests joined residents and staff from Atlantic Shores gathered for an autumn day of fun, gracious hospitality, and the chance to meet new friends. Guests got a close-up look at beautiful classic cars, trucks, motorcycles on display - - discovering exact models that were either the first ones they owned, or ones they had their first date in. They also voted for fan favorite for Best in Show, with cash prizes offered to proud owners for first, second and third place. Young and old alike rocked to throwback songs, with live music from a keyboard, bass and drum trio that set the mood.
The event came together after Atlantic Shores partnered with the Tidewater Region of the Antique Automobile Club of America (TRAACA) to schedule the date, and invite TRAACA members, as well as other local clubs to join in. Personal invitations were also extended to local owners at regional car shows. Car clubs including the Virginia Chevy Lovers and the Cape Henry Model A Ford Club also rolled in with a wide selection of beautiful cars, with 61 vehicles participating in 2019, and 32 in 2018, including everything from a rare '61 Nash Metropolitan to a vintage ambulance.
Atlantic Shores was the only retirement community to regionally stage this type of event, and also the first retirement community to coordinate with TRAACA on an event of this scale, giving exhibitors a more unique atmosphere to meet fellow car aficionados and bond over their vehicles. According to Matt Doscher, TRAACA President, "This year's second annual Classic Car Cruise-In was a resounding success, doubling the number of attendees we had last year. A big thank you to Atlantic Shores Retirement Community for hosting us and making us feel welcomed. We're looking forward to doing this again next year."
Among the exhibitors were several Atlantic Shores residents, who also shared their cars and stories. Charlyn Shepard was able to show off her teal 1995 Corvette convertible. According to Charlyn, "I'm new to the area, and new to Atlantic Shores. My 'vette is my baby, and I was worried about finding someone good to service it. Other Corvette owners at the event instantly took me under their wings, and now I have a whole new set of connections."
Several Atlantic Shores departments came together to brainstorm ideas for ideas on how to make this a fantastic event for participants and guests alike. Atlantic Shores' award-winning Food & Beverage and Catering teams joined to create a "blast from the past" menu, transporting guests back to a 1950's diner and drive-in. Delicious creations included Pulled Pork Sliders, Beef Brisket, Smoked Chicken, Beer Sausage, Country-style Green Beans, Mac & Cheese, and for treats, popcorn and deep-fried Oreos. Contacts with local breweries were also "tapped" to provide local microbrew beer, paired with local specialty wines.
Atlantic Shores' Resident Services team worked to integrate resident ideas and participation, with resident-volunteers acting as event ambassadors, working in shifts to greet and mingle with guests, assisting with check-in, and personally hosting tours of five beautiful apartments open during the event.
Resident Betty Tucker shared, "I really enjoyed meeting so many new people, and hopefully enticing some to think about retiring here and joining our wonderful community of happy people!"
Anna Little, Atlantic Shores Director of Sales & Marketing commented, "We're always looking for unique ways showcase our gorgeous grounds and vibrant lifestyle to people who haven't yet visited our community. This special event gave us the opportunity to share our campus, award-winning cuisine, newly renovated residential facility, and the 'life' of our community -- our wonderful residents. We also wanted the event to be fun for our residents, and were excited to hear from them that it was one of our best events ever. We also were absolutely thrilled to receive national recognition for the time and effort our entire team put into its creation and execution. We're already rolling with ideas for next year!"
For more information on Atlantic Shores, visit: http://www.atlanticshoresliving.com, or http://www.facebook.com/atlanticshoresliving.