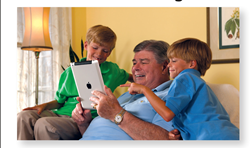 These technologies help us continuously deliver the range of services for the quality of life our residents deserve
VIRGINIA BEACH, Va. (PRWEB) January 04, 2019
They're texting friends on their smart phones, posting photos on social media, talking with grandkids on FaceTime, and binge-watching series on streaming services. Around them, wireless technologies are advancing medical, security and location-based services to add to their quality of life. Residents at Atlantic Shores Retirement Community in Virginia Beach, Virginia are actively embracing technology on their 100-acre campus.
In honor of National Technology Day, January 6, 2019, residents and staff alike are celebrating current technology that keeps them organized, connected, healthy and safe, as they also move forward on a number of initiatives designed to leverage future technology.
Co-driven by Atlantic Shores' Resident Technology Committee, these plans are driving innovation that touches everyone in the community. One of many involved groups in this self-governed community, this committee serves as a "tech think tank," refining the functionality and direction of Atlantic Shores' technology platforms by providing suggestions and implementation strategies, shared with residents, staff, and standing committees. They also post educational YouTube videos, and work one-on-one with fellow residents to maximize all forms of technology to enhance social connectedness and explore the world.
Atlantic Shores continues to enhance the quality of life for residents by expanding its technology initiative called ASpire. In its final state, ASpire will provide a campus-wide enterprise-grade Wi-Fi and cellular service, enabling residents, employees and guests to connect to wireless internet, indoors or out, anywhere within the community.
Indoors, Atlantic Shores' Smart Home initiative encourages the use of smart devices to enable residents to stay at home and care for themselves for a longer independent life. Demonstrations are provided in a special Smart Home model unit, and staff and resident committee members offer in-home consults for reviewing electronic devices including voice alerts, voice enabled calling, voice controlled lighting, smart thermostats and locks, as well as in-home cameras to provide peace of mind for our residents and their families.
The community has also installed a Hearing Loop system, which delivers a broadcast quality signal customized for each resident as they enjoy movies, speakers, live concerts, and classes, as well as a RogerTouchscreen microphone/Roger MyLink receiver system, which allows residents dining together at the same table to converse and hear each other distinct from background noise in the rest of the room. Due to its popularity and successful implementation throughout Atlantic Shores' main campus, this system will soon be installed in the community's Harbourway Assisted Living Facility.
Additional tech infrastructure expansions throughout the campus this year will include adding two new computers and a new printer in the community's library, installation of electronic bulletin boards, and refinement of their Seaside Health Center's bedside portal, to enhance patient communication.
Atlantic Shores' Resident Technology Committee is also busy rolling out plans for 2019, which include purchasing new hardware such as computers, tablets and printers across campus, installation of additional electronic bulletin boards, and possible upgrades to Seaside Health Center's bedside portal, to enhance patient communication.
Moving forward, committee members will introduce the community's technology programs to new residents during their orientation, and assist them in connecting personally and electronically with their new neighbors. Together, all tech initiatives at Atlantic Shores serve as a forward-thinking way to better fulfill the community's mission -- to provide high quality housing, supportive services, and healthcare while fostering an environment that ensures freedom, dignity, independence, and security for all residents.
Discover more about Atlantic Shores at http://www.atlanticshoresliving.com, and http://www.facebook.com/atlanticshoresliving.