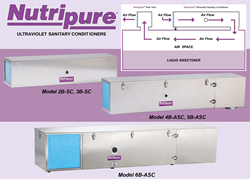 …manufacturers are buying our Nutripure® because it provides a safe, fast, durable, and economical way to sanitize the air in their tank's head space.
HAUPPAUGE, N.Y. (PRWEB) November 14, 2018
Atlantic Ultraviolet Corporation (AUV) is featuring their Nutripure® line of ultraviolet sanitary conditioners for the purification of the air in your liquid storage tank head space.
The Nutripure® uses germicidal ultraviolet light to provide a sterile condition in the tank head space, defeat contamination from airborne sources, and lower condensation levels which can dilute the tanks contents. When diluted, some liquids have a strong tendency to promote the growth of bacteria and mold on the liquid surface. The Nutripure® provides bacteria-free air into the air space above the liquid in the storage tank and the tank vent provides an outlet for this air, while at the same time preventing contaminants, insects or debris from entering the storage tank. Applications for the ultraviolet sanitary conditioner are mostly in the food and beverage industries such as liquid sweeteners, maple syrup, flavorings, breweries, vinegar, and soda. Atlantic Ultraviolet Corporation® has more information about the Nutripure®, as well as contact information and the ability to purchase these sanitary conditioners at their product page for Nutripure® at https://www.buyultraviolet.com/nutripure-uv-storage-tank-sanitary-conditioners.
Ann Wysocki, COO of Atlantic Ultraviolet Corporation® says, "Our Nutripure® has been used for a long time by commercial food, beverage and pharmaceutical manufacturers in their liquid storage tanks. Now we've found that many of the craft and niche beverage manufacturers are buying our Nutripure® because it provides a safe, fast, durable, and economical way to sanitize the air in their tank's head space. The Nutripure® is also low maintenance, continuously disinfects without special attention, and comes in many versatile sizes to be the optimal solution for their cost-conscious and liquid storage tank sanitation needs."
Optional accessories, such as a HEPA Absolute filter which the irradiated air is forced through to remove more than 99.97% of particles as small as 0.3 microns, can provide even more sanitization and peace of mind. The selected location for the Nutripure® must be in a properly ventilated area and indoors or in a shelter with proper protection from the elements.
About Atlantic Ultraviolet Corporation (AUV)
Manufacturers / Engineers / Sales / Service - Germicidal Ultraviolet Equipment & Lamps
In 1963, Atlantic Ultraviolet Corporation® began engineering and manufacturing ultraviolet water purification equipment, ultraviolet air sanitization and surface disinfection systems, and germicidal UV lamps for residential, commercial, and industrial applications. They continue to engineer and manufacture their products in the USA.
Germicidal ultraviolet lamps used in Atlantic Ultraviolet's products produce shortwave radiation that is lethal to bacteria, virus, and other microorganisms. Well established as a method of choice, ultraviolet technology is effective, economical, safe, quick, and easy to use due to its by-product free process. The method is unique without the use heat or chemicals. To LEARN more information about Atlantic Ultraviolet Corporation, or how UV disinfection works, visit the official company website at Ultraviolet.com. To SHOP our products visit BuyUltraviolet.com or Call 1-631-273-0500, Mon-Fri, 7am-6pm EST, or Email us at Sales(at)AtlanticUV.com.