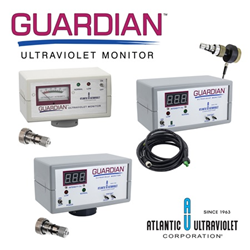 "We wanted to give our clients more options for monitoring the UV-C output on their uv water purifiers."
HAUPPAUGE, N.Y. (PRWEB) October 02, 2018
Atlantic Ultraviolet Corporation (AUV) has just brought to market a new digital line of their highly-regarded analog GUARDIAN™ Ultraviolet Monitors.
The new Digital GUARDIAN™ Ultraviolet Monitors can be directly mounted to your water purifier or used remotely, and each has a 12v and 110/220v version. Regardless of which version you choose, the Digital GUARDIAN™ Ultraviolet Monitor will measure the UV-C output of the germicidal lamp within the water purifier and detect any reduction in ultraviolet levels. An internal audio alarm feature would then alert the user if there was a dangerous drop in ultraviolet levels for further investigation.
The Digital GUARDIAN™ Ultraviolet Monitor also provides several outputs for monitoring water purifier operation at remote location. For example, a 4-20mA output provides current for a remote display of ultraviolet intensity; Dry contacts provide for remote indication of ultraviolet trip levels; 12v DC output provides power for a low-voltage external audio alarm.
Ann Wysocki, COO of Atlantic Ultraviolet Corporation® says, "We wanted to give our clients more options for monitoring the UV-C output on their water purifiers. Going digital was an easy choice. For one, digitally displaying the information will give you a more finite measurement; and, two, adding a Digital Remote version gives our clients the ability to monitor their water purifiers even when their purifiers are in an obstructed view location—an advantage over a directly mounted monitor."
Using an ultraviolet monitor to measure UV-C output can be an important tool in your water purification system. The use of an ultraviolet monitor is recommended by the United States Public Health Service in "Criteria for the Acceptability of an Ultraviolet Disinfection Unit". With that in mind, Atlantic Ultraviolet Corporation developed their monitors to all be capable of working in conjunction with both SANITRON® and MIGHTY★PURE® water purifiers. For additional information, the site visitor can follow a link found within the page to relevant PDF documents containing more specific detail about the products and options, including the four possible reasons for a reduction in ultraviolet levels.
The four possible reasons include:
Fouling or deposits on the quartz sleeve

Quartz sleeves should be inspected one month after initial use to determine how often it needs to be cleaned
Poor ultraviolet transmission through the water

Color, turbidity, and organic or other impurities in the water can reduce or interfere with the transmission of ultraviolet rays
Lamp outage or ballast failure

Lamp outage due to use past the recommended replacement time, or ballast failure due to a power surge, or some other reason, would result in a loss of ultraviolet rays production.
Depreciation of lamp output due to usage or other cause

Lamp output gradually depreciates with use. Lamps use in our MIGHTY★PURE® & SANITRON® Ultraviolet Water Purifiers should be replaced once a year, or about every 10,000 hours.
About Atlantic Ultraviolet Corporation (AUV)
Manufacturers / Engineers / Sales / Service - Germicidal Ultraviolet Equipment & Lamps
In 1963, Atlantic Ultraviolet Corporation® began engineering and manufacturing ultraviolet water purification equipment, ultraviolet air sanitization and surface disinfection systems, and germicidal UV lamps for residential, commercial, and industrial applications. They continue to engineer and manufacture their products in the USA.
Germicidal ultraviolet lamps used in Atlantic Ultraviolet's products produce shortwave radiation that is lethal to bacteria, virus, and other microorganisms. Well established as a method of choice, ultraviolet technology is effective, economical, safe, quick, and easy to use due to its by-product free process. The method is unique without the use heat or chemicals. To Learn more information about Atlantic Ultraviolet Corporation, or how UV disinfection works, visit the official company website at Ultraviolet.com, to Shop our products visit BuyUltraviolet.com or Call 1-631-273-0500, Mon– Fri, 7am- 6pm EST or Email us at Sales(at)AtlanticUV.com.