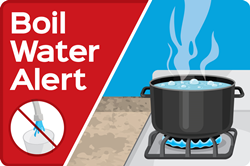 "Boil Water Alerts are becoming more common, but people's lives don't have to be completely turned upside down every time."
HAUPPAUGE, N.Y. (PRWEB) November 26, 2019
Atlantic Ultraviolet Corporation (AUV) is pleased to announce the launch of an application-specific page on Ultraviolet.com for individuals who experience Boil Water Alerts. This page is the fourth installment in a series of new application-specific pages on Ultraviolet.com that provides information about the use of ultraviolet radiation (UV-C) for chemical-free disinfection in specific applications. The Boil Water Alert page gives an easy-to-comprehend overview of UV-C usage for water disinfection during Boil Water Alerts. In addition to the overview page, a series of new sub-posts will be released that give more detailed information.
Ann Wysocki, COO of Atlantic Ultraviolet Corporation® says, "Boil Water Alerts are becoming more common, but people's lives don't have to be completely turned upside down every time. UV-C disinfection systems that are installed in homes and businesses enable water use to continue as usual. The goal with this new page and series of posts is to help the general public understand how UV-C can lessen risks like E. coli, Giardia, and other water-borne diseases if they are under a Boil Water Alert."
The Boil Water Alert applications specific page will be accessible from the Germicidal UV-C Applications page, and reachable by a direct link. Here is the direct link for Boil Water Alerts. The application-specific page for Boil Water Alerts is broken down into six categories in order to provide people with the information they are seeking at a quick glance. For additional information, visitors to the page can visit links to relevant ultraviolet.com posts containing more specific details about the categories.
The six post categories include:
1. What is a Boil Water Alert?

This opening section talks about what a Boil Water Alert means.
2. Situations that Cause Contaminations and Trigger Boil Water Advisories

An introduction to internal and external impacts to the water management facility that may cause contamination of water and trigger a Boil Water Alert.
3. What to do During a Boil Water Advisory

This area exhibits 3 potential water treatments during Boil Water Alerts: boiling, chemical treatment, and UV-C disinfection.
4. Infection Concerns with Boil Water Alerts

This section provides an overview of the waterborne pathogens that it is crucial to eradicate during Boil Water Alerts.
5. Avoid the Hassel of Boiling Water during an Advisory with UV-C Disinfection

An overview of UV-C technology and the keys for successful disinfection.
6. Atlantic Ultraviolet Corporation's® 6 UV-C Water Disinfection Lines

This final area introduces the various Atlantic Ultraviolet Corporation® products that are designed for water disinfection—Bio-Logic® UV-C Water Purifiers, Bio-Logic® UV-C Water Purifier with Pure Water Pack™, MINIPURE® Ultraviolet Water Purifiers, MIGHTY PURE® Ultraviolet Water Purifiers, SANITRON® Ultraviolet Water Purifiers, and MEGATRON® Ultraviolet Water Disinfection Systems.
Post topics provide more detailed information on the page's categories and include:
1. Disinfection Methods for a Boil Water Alert

Details about water disinfection during a Boil Water Alert and the advantages of UV-C.
2. What to do at Home During a Boil Water Alert

How to handle personal hygiene, food and beverage prep, and dish-washing at home during a Boil Water Alert, and how an Atlantic Ultraviolet Corporation® UV-C system eliminates having to worry about Boil Water Alerts.
3. UV-C Keeps Your Food or Beverage Business Open during a Boil Water Alert

This post illustrates how preparation for a Boil Water Alert with a UV-C water disinfection system enables businesses such as restaurants, coffee shops, and commercial ice makers to keep their doors open during Boil Water Alerts, protecting the business' bottom lines.
4. UV-C Keeps Clients and Patients in Large Facilities Safe during a Boil Water Alert

This final post in the Boil Water Alerts series discusses UV-C for water disinfection in facilities that care for or accommodate people–such as hospitals, nursing homes, condo complexes, hotels, and incarceration facilities–and discusses the benefits of Atlantic Ultraviolet Corporation's SANITRON® and MEGATRON® UV disinfection systems.
About Atlantic Ultraviolet Corporation (AUV)
Manufacturers / Engineers / Sales / Service - Germicidal Ultraviolet Equipment & Lamps
In 1963, Atlantic Ultraviolet Corporation® began engineering and manufacturing ultraviolet water purification equipment, ultraviolet air sanitization and surface disinfection systems, and germicidal UV lamps for residential, commercial, and industrial applications. They continue to engineer and manufacture their products in the USA.
Germicidal ultraviolet lamps used in Atlantic Ultraviolet's products produce shortwave radiation that is lethal to bacteria, virus, and other microorganisms. Well established as a method of choice, ultraviolet technology is effective, economical, safe, quick, and easy to use due to its by-product free process. The method is unique without the use heat or chemicals.
To LEARN more information about Atlantic Ultraviolet Corporation, or how UV disinfection works, visit the official company website at Ultraviolet.com.
To SHOP our products visit BuyUltraviolet.com or Call 1-631-273-0500, Mon–Fri, 7 am - 6 pm EST, or Email us at Sales(at)AtlanticUV(dot)com.