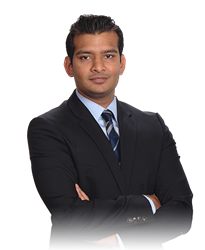 Degenerative disc disease isn't actually a disease at all, but a domino-like breakdown in spinal discs resulting from aging, chronic wear and tear, or injury.
West Orange, NJ (PRWEB) October 13, 2016
One the many potential concerns accompanying aging is a cascade of changes in the spine, especially discs – known as degenerative disc disease – that can present itself with intrusive bouts of pain, numbness and weakness. But an array of effective treatment options for this extremely common back problem can help patients get back to their favorite activities, according to Praveen Kadimcherla, MD, board certified orthopedic spine surgeon at Atlantic Spine Center.
Degenerative disc disease isn't actually a disease at all, but a domino-like breakdown in spinal discs resulting from aging, chronic wear and tear, or injury. Located between bony vertebrae, these discs help us bend and flex while cushioning most of the pressure from normal movement. Degenerative disc disease unfolds gradually, resulting in fluid loss inside the discs, tears in discs' outer layers and causing nerve fiber growth in damaged discs.
"These changes can happen in any area of the spine, though they typically take place in the lower back or neck," explains Dr. Kadimcherla, who is fellowship-trained in orthopedic and spine neurosurgery. "Regardless of their location, degenerated discs can lead to chronic pain and a loss of range-of-motion. A host of other spinal problems such as bone spurs, herniated discs and spinal stenosis can also follow."
Why does degenerative disc disease occur?
First, the bad news: Several risk factors for degenerative disc disease can't be changed, including age and family history. But the good news is that several other risk factors are controllable, including smoking, obesity, heavy lifting, athletic participation and, to some extent, back injury.
How will you know if you have degenerative disc disease? According to Dr. Kadimcherla, symptoms include:

Pain in the lower back, buttocks, thighs or neck
Pain that worsens when sitting, bending, lifting or twisting
Pain that improves when walking, changing positions or lying down
Severe back pain episodes that feel better after days, weeks or months
Numbness, weakness or tingling in the legs
"You'll likely know there's a problem, even if you're not sure it's degenerative disc disease. But it's important to identify symptoms and diagnose this problem early if possible," Dr. Kadimcherla says. "Get to your doctor, who will conduct a physical exam and may order images of the spinal discs and surrounding areas or evaluate your nerve function using a variety of tests."
Tips on treating degenerative disc disease
Prevention, of course, is the best treatment for degenerative disc disease, Dr. Kadimcherla notes. Various lifestyle measures can help discourage the condition from developing, including regular exercises such as core building exercises; modifying back positions and movements; quitting smoking; eating healthy foods; and drinking plenty of water.
But if you develop degenerative disc disease despite your best efforts, don't despair. Treatments for the problem are multi-faceted, targeting weak muscles in the back, inflammation surrounding affected nerves, and any underlying structural defects in the spine. As with most back conditions, conservative measures are used initially, and are suggested in most cases Dr. Kadimcherla says. These include:
Over-the-counter or prescription NSAIDs (nonsteroidal anti-inflammatory drugs) to control pain and reduce inflammation
Physical therapy encompassing posture training, exercise, ice or heat application or electrical stimulation
Steroid injections in the area around the nerves exiting the spinal cord
Surgery to remove degenerated discs and/or fuse two vertebrae together
Surgery, of course, is a last resort for the rare few whose symptoms that aren't relieved through conservative treatments, Dr. Kadimcherla says.
"You don't just have to give in to the stream of changes affecting your spine," he adds. "Prevention comes first, but if your degenerative disc disease affects your quality of life, you can fight back."
Praveen Kadimcherla, MD, is a board-certified physician who is fellowship-trained in orthopedic and spine neurosurgery at Atlantic Spine Center.
Atlantic Spine Center is a nationally recognized leader for endoscopic spine surgery with three locations in New Jersey in West Orange, Edison and Union. http://www.atlanticspinecenter.com http://www.atlanticspinecenter.nyc