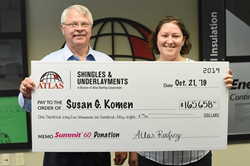 "Corporate initiatives and donations like the one from Atlas help us continue serving our local community and communities across the country through life-saving programs and research." —Julie Brock, special events and volunteer manager at Susan G. Komen Greater Atlanta
ATLANTA (PRWEB) October 22, 2019
Atlas Roofing Corporation, along with their dedicated network of contractors throughout the U.S., have raised over $160,000 to support the fight against breast cancer through the Summit 60® Pink initiative. From August 15 through October 15, a portion of the proceeds of every roll of Summit 60 synthetic roof underlayment sold was donated to the Susan G. Komen breast cancer foundation.
As part of the national initiative, Atlas debuted its special-edition Summit 60 Pink premium synthetic roof underlayment embellished with pink ribbons, the international symbol of breast cancer awareness.
"The goal of our Susan G. Komen Pink campaign was to provide much-needed awareness and funding for critical research and education," explained Kirk Villar, vice president of sales and marketing for Atlas. "We are very proud of the funds we have raised through this partnership, and we will continue to donate our time and efforts to the fight against breast cancer."
According to the Centers for Disease Control and Prevention, breast cancer is the second most common cause of death for women among all races and ethnicities in the United States.
"The special-edition rolls were a great way for Atlas and our contractors to show our dedication to the fight against breast cancer," said Tiara Searcy, content and digital marketing manager for Atlas. "Together, we can help make a difference."
The Susan G. Komen foundation, launched in 1982, has funded more than $988 million in research and more than $2.2 billion in education, screenings and treatment programs across the U.S.
"We are so grateful to receive this donation from Atlas Roofing Corporation," said Julie Brock, special events and volunteer manager at Susan G. Komen Greater Atlanta. "Corporate initiatives and donations like the one from Atlas help us continue serving our local community and communities across the country through life-saving programs and research."
Designed To Protect
Summit 60 is designed to optimize the life of a roof system through superior water resistance and UV protection, protecting against water intrusion and mold growth. Made from a woven polymeric scrim, Summit 60 is designed for increased strength, reduced slippage between the underlayment and the roof sheathing and improved walkability during installation. The materials will not warp, buckle or crack over time like other organic felt brands. The UV coating provides 60-day protection from the sun while the roof is being installed.
For more information on Summit 60 underlayment, please visit atlasroofing.com.
About Susan G. Komen
Susan G. Komen® is the world's leading nonprofit breast cancer organization, working to save lives and end breast cancer forever. Komen has an unmatched, comprehensive 360-degree approach to fighting this disease across all fronts and supporting millions of people in the U.S. and in countries worldwide. We advocate for patients, drive research breakthroughs, improve access to high-quality care, offer direct patient support and empower people with trustworthy information. Founded by Nancy G. Brinker, who promised her sister, Susan G. Komen, that she would end the disease that claimed Suzy's life, Komen remains committed to supporting those affected by breast cancer today, while tirelessly searching for tomorrow's cures. Visit komen.org or call 1-877 GO KOMEN. Connect with us on social at ww5.komen.org/social.
About Atlas Roofing
Atlas Roofing Corporation is an innovative, customer-oriented manufacturer of residential and commercial building materials. Atlas has grown from a single shingle-manufacturing plant into an industry leader with 31 facilities across North America. Stay connected with us at AtlasRoofing.com or on Facebook, Twitter and YouTube.