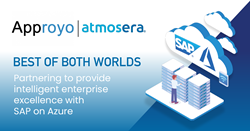 Clients benefit from improved performance, scalability, and cost efficiency of a modernized cloud infrastructure to power SAP applications.
PORTLAND, Ore., and BROOKFIELD, Wis. (PRWEB) October 28, 2020
Atmosera, a Microsoft Azure Expert Managed Service Provider, and Approyo, a leader in SAP support and services, announced their partnership today to provide joint SAP on Azure services to advance their clients' digital transformation.
SAP on Azure provides Approyo's and Atmosera's clients with consolidated reference architectures, migration roadmaps, governance structures, and support. Together the partners migrate SAP ERP and SAP S/4HANA users from on-premise infrastructures to Azure. Clients benefit from improved performance, scalability, and cost efficiency of a modernized cloud infrastructure to power SAP applications.
"We're proud to partner with Atmosera, who shares our dedication to supporting clients and is recognized globally as an Azure Expert MSP," said Sean Gilmour, Chief Technology Officer of Approyo, "Together, we allow customers to leverage a solution that is able to provide improved workflows, extra-large instances for deployment, faster go-to-market releases, and more. By creating tailored roadmaps to best fit each of our clients' needs, we inevitably lead them down the path to continued success in the future."
Atmosera and Approyo's alliance follows the footsteps of the Embrace initiative – a preferred cloud partnership announced between Microsoft and SAP. With Atmosera being a Microsoft Gold Partner and a Microsoft Azure Expert MSP, and Approyo being an SAP partner, their partnership brings the best of both worlds, allowing customers to leverage innovative SAP solutions on Microsoft Azure. The first implementation of Approyo and Atmosera's joint SAP on Azure solution was for a global hotel chain, which benefited from increased costs savings and flexibility. In the new cloud environments built by Atmosera and Approyo, clients leverage the extensive collection of Azure-native tools to accelerate innovation with advanced analytics, AI, development, testing, security, and more. Azure secures critical SAP workloads with built-in backup and data recovery, with high availability and resiliency to ensure they are always accessible.
"Our goal is to provide our clients with lower costs and to build efficient and available environments for critical function use," said Scott Harvey, Chief Technology Officer of Atmosera. "As migration to cloud continues, SAP is a workload that is intuitive to migrate. The IaaS architecture is robust, and the ability of hyperscalar clouds to ramp and change eliminates concerns about being able to meet demand. But almost as important is being able to operate within the compliance boundaries of the data. Microsoft Azure's footprint is the largest around and deploying to locales that match data sovereignty boundaries is critical with systems that store data like SAP. I am excited to have the opportunity to partner with Approyo, a leading SAP expert, to bring this solution to reality."
About Approyo
Approyo provides full SAP service technology with extensive capabilities in consulting, solutions architecture, hosting and managed services, in order to develop the right solution for its customers. Approyo provides installations, migrations, upgrades of SAP S/4HANA and all other SAP solutions, as well as 24/7 basis support for customers worldwide. With over 300 SAP environments under management around the globe, Approyo supports businesses in their journey to becoming intelligent enterprises with SAP technology. Learn more about Approyo at https://www.approyo.com
About Atmosera
Atmosera works closely with organizations to design, implement, operate, and optimize Azure environments supported by advanced services to achieve their business goals. Atmosera is an Azure Expert MSP, Microsoft's highest tier of partner certification. Serving as an extension of clients' teams, Atmosera simplifies the process of digital transformation with 20+ years of experience managing complex IT environments and providing 24x7x365 US-based support. As a Gold-level Microsoft Partner, Atmosera is a leading provider of Azure solutions, security services, compliance (HIPAA/HITECH, PCI-DSS, IRS-1075, SOC 1 and SOC 2 Type II), data protection, DevOps, and other services. Learn more about Atmosera at https://www.atmosera.com