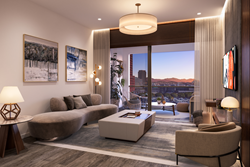 LOS ANGELES (PRWEB) May 18, 2020
etco Homes, an independent and privately-owned homebuilding company, has unveiled the first depictions of what life will be like inside Āto, a seven-story mixed-use development coming to life in the heart of downtown Los Angeles' Little Tokyo neighborhood. Āto, which translates loosely to "art" in Japanese, will be comprised of 77 urban flats crowned by an expansive rooftop amenity deck for residents as well as ground-floor retail space. Āto is slated for completion summer 2021 with pre-sales launching in Q4 2020.
"The residential building boom in downtown Los Angeles has spurred the transformation of Little Tokyo attracting homebuyers seeking an urban lifestyle and prompting the rediscovery of this historical Japanese hub," said Afshin Etebar, President of etco Homes. "Āto will offer residents a vibrant lifestyle rooted in history, yet full of artistic expression and liveliness, all while providing a connection to the growing arts and entertainment districts of downtown Los Angeles."
The 77 one- and two-bedroom condominiums, ranging from approximately 700 square feet to 1,117 square feet, will showcase Caesarstone countertops with stainless steel and black finishes complimenting bright white, warm white and cool grey interior color palettes. Āto features an impressive rooftop amenity space of approximately 6,000 sq. ft. complete with a pool and hot tub, experience shower, multiple lounge and dining areas, bar space for resident gatherings and events, BBQ area, gym with yoga and fitness-on-demand center, dog run and outdoor theater.
Located on Astronaut Onizuka Way, a street named after Ellison Shoji Onizuka who was the first Japanese American to reach space, Āto will pay homage to the celebrated astronaut with stunning public art murals that represent the past, present and future of space exploration. Little Tokyo, also known as Little Tokyo Historic District, is an ethnically Japanese American district in downtown Los Angeles, and a short distance to the vibrant and upscale downtown area. Residents will be spoiled for choice when it comes to historical, cultural, shopping and culinary destinations just beyond their doorstep at Āto. A new Metro Regional Connector line is currently underway that will bring a trio of new underground transit stations to downtown LA including a Little Tokyo/Arts District Station providing greater connectivity to the surrounding area.
For more information on Āto, please visit atodtla.com.
About etco Homes
etco Homes is a privately held, homebuilding company with a focus on boutique urban infill condominium development. With a proven track record spanning more than three decades, etco Homes prides itself on building communities that embrace the character of the neighborhood in sought-after locations from the Southern California coast to Pasadena, downtown Los Angeles to West Hollywood. Each etco Homes community features contemporary design, thoughtful floorplans and generous amenities and services. For more information, visit http://www.etcohomes.com.
Media Contact
Alyssa Lawrence
Murphy O'Brien Public Relations
etcohomes@murphyobrien.com
(310) 586-7173