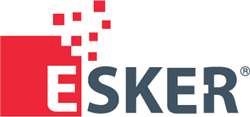 MIDDLETON, Wis. (PRWEB) July 23, 2019
Esker, a worldwide leader in AI-driven process automation solutions and pioneer in cloud computing, today announced that ATR, the world leader in the regional aviation market, has chosen Esker to automate its accounts receivable process in France. Esker's Accounts Receivable solution has enabled ATR to automate the delivery of 70,000 customer invoices annually and significantly improve its DSO and customer satisfaction.
With an increasing number of ATR customers wanting to receive their invoices electronically, Esker was able to offer 100 percent automated invoice and reminder letter delivery — of which, 80 percent are sent via email and 20 percent via Esker's portal.
Seamlessly integrated with ATR's SAP® system, Esker has enabled ATR to achieve:

Faster processing times
Decreased costs related to invoicing (e.g., postage, consumables, equipment, etc.)
Decreased unpaid bills and lowered DSO thanks to faster sending of reminder letters
Standardized management processes between the different subsidiaries and headquarters (ATR's six-person team is located in three billing centers in Toulouse, Singapore and Miami)
Compliance with e-invoicing and archiving regulations
Improved invoice sending traceability, facilitating collections and dispute resolution
Improved visibility over team performance and workload thanks to dashboards displaying metrics
Enhanced customer satisfaction thanks to invoices being sent when they are ready and in a customer-preferred format
About Esker
Esker is a worldwide leader in cloud-based document process automation software, helping financial and customer service departments digitally transform their purchase-to-pay (P2P) and order-to-cash (O2C) cycles. Used by more than 6,000 companies worldwide, Esker's solutions incorporate technologies like artificial intelligence (AI) to drive increased productivity, enhanced visibility, reduced fraud risk, and improved collaboration with customers, suppliers and internally. Esker operates in North America, Latin America, Europe and Asia Pacific with global headquarters in Lyon, France, and U.S. headquarters in Madison, Wisconsin. For more information on Esker and its solutions, visit http://www.esker.com. Follow Esker on Twitter @EskerInc and join the conversation on the Esker blog at blog.esker.com.