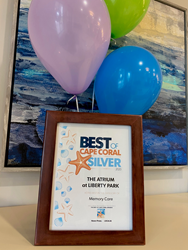 Congratulations, you deserve this! I know my mother is in great hands, she is safe, happy and healthy.
CAPE CORAL, Fla. (PRWEB) June 15, 2020
Meridian Senior Living is thrilled to announce that its community Atrium at Liberty Park Supportive Independent Living, Assisted Living, and Memory Care (Atrium) was recognized with a Silver award for Memory Care in the Fourth Annual "Best of Cape Coral" awards as aired on the News-Press website on June 3, 2020 at 6 pm. More than 250 businesses in the Cape Coral area representing a full range of categories were recognized during this live online presentation. To earn a coveted spot on the "Best of Cape Coral" list, News-Press and News-Press.com readers cast their online ballots for service providers they consider the best in their particular category.
"We are extremely proud of the recognition of Atrium earning a position on News-Press's "Best of Cape Coral" for Memory Care," says Gloria Hughes, Meridian Senior Living Vice President of Operations. "Our amazing staff understands the challenges that families face and the importance of their having access to support, quality memory care education, and the resources to take care of themselves."
"Congratulations, you deserve this!" says Michele K., Memory Care resident family member. "I know my mother is in great hands, she is safe, happy and healthy. Thank you to all at the Atrium at Liberty Park"
"I feel that the memory care staff always go above and beyond to provide terrific care for my mom," conveys Deb K. Memory Care resident family member. "We are so lucky to have found the Atrium at Liberty Park."
Atrium hosts Virtual Caregiver Support Groups, a monthly workshop founded on principles from Meridian's exclusive memory care program: Montessori Moments in Time (MMIT), to offer families and caregivers strategies to cope with challenging times. The goals of MMIT at Atrium are to enhance living for those with memory challenges by using the five directional paths. Each directional path has the resident and family in mind to encourage independence and helps deal with the progression of Alzheimer's disease and other related dementias. These paths include Family Connections, Health and Wellness, Dining Experience, Life Engagement, and Team Promise. Family Connections focus on the well-being of our families through social gatherings, volunteer opportunities, support, and education. Health and Wellness is based on providing satisfying experiences, promoting independence, and encouraging positive behavior while maintaining respect and dignity. The Dining Experience leverages meals as a time to reminisce, create new memories, maximize independence, and promote socializing, all in an inviting environment. Life Engagement includes scheduled programs that support the whole person allowing residents to function at their highest potential, giving them a sense of purpose and overall well-being. Team Promise focuses on developing care partnerships through ongoing education and training.
Virtual Caregiver Support Groups are held on the third Wednesday of every month from 1pm-2pm. To ensure an effective meeting, space is limited and interested participants should reserve their spot by completing the R.S.V.P. form using the link: msl.life/VirtualSupportGroup_FL or calling (239) 603-7074. For more information about Atrium, visit: http://www.atriumatlibertypark.com or Facebook page: @AtriumatLibertyPark.
About Atrium at Liberty Park:
Atrium at Liberty Park features 130 supportive independent living, assisted living and memory care residences over 110,000 square feet. Three spacious, landscaped courtyards and bright amenity spaces underscore the community's focus on active living: daily engaging and social activities, a dining experience with multiple dining options and venues, and the highest quality of care. For more information, visit http://www.atriumatlibertypark.com or call (239) 603-7074​.
About Meridian Senior Living:
Meridian Senior Living, a privately held company based in Bethesda, Maryland, owns and operates seniors housing communities across the country and provides operational consulting to 24 communities in China. With more than 70 communities in 21 states and more in development, Meridian is one of the largest seniors housing operators in the U.S. The company prides itself on providing the highest quality care, exceptional lifestyle programming and a distinctive dining experience for its residents. For more information on Meridian Senior Living, visit meridiansenior.com.